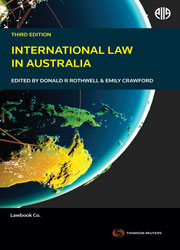 International Law in Australia 3rd edition book+ ebook
Book+eBook

Date: 07/03/2017

Code: 41957692

Lawbook Co., AUSTRALIA

International Law in Australia 3rd edition book+ ebook
Description

International Law in Australia is the third edition in a landmark series that since 1965 has tracked the development and significance of international law for Australia. With eminent contributors from academia, government and the profession, International Law in Australia provides an exhaustive and contemporary account of Australia's interactions with international law in the 21st century. The work divides into analysis of critical aspects of Australia's international law engagement with international organisations, treaty making, dispute resolution and the interaction of international law with Australian law. Consideration is also given to Australian state practice and engagement in traditional areas of international law such as law of the sea, international criminal law, international human rights, and international trade law, while areas of international legal practice and engagement particular to Australia such as international resources law, and Australia's external territories are also addressed. Australia's contributions to the development of international law in areas such as international humanitarian law, and international aviation law are also assessed. The book is essential reading for any international law student, scholar or practitioner seeking a contemporary understanding of Australian practice in and the significance international law holds for Australia.

Table of Contents
Chapter 1: Australia's International Personality: Historical, Legal and Policy Perspectives
Chapter 2: International Law and Australian Law
Chapter 3: Australian Treaty Practice
Chapter 4: Australian Jurisdiction and International Law
Chapter 5: Australia and International Organisations
Chapter 6: Australia and the International Protection of Human Rights
Chapter 7: Australia and the International Protection of Indigenous Rights
Chapter 8: Nationality, Asylum and Refugee Law in Australia
Chapter 9: Australia and International Criminal Law
Chapter 10: Transnational Criminal Law in Australia
Chapter 11: Australia and International Counter-Terrorism Law and Practice
Chapter 12: The ADF and Military Operations
Chapter 13: Australia and International Trade Law
Chapter 14: Australia and International Commercial Law
Chapter 15: Australia's Resources Policies and International Law
Chapter 16: Diplomatic and Consular Immunities and Privileges in Australia
Chapter 17: Australia's Coastal and Offshore Jurisdiction
Chapter 18: Australia and the Law of the Sea
Chapter 19: Australia and International Environmental Law
Chapter 20: Australia and International Air Law
Chapter 21: Australia and International Space Law
Chapter 22: Australia's External Territories and International Law
Chapter 23: Australia and International Dispute Settlement

*
eBooks and packages including an eBook may not be returned once the software key has been supplied. Your rights as a customer to access and use the ProView™ software and a ProView eBook are subject to acceptance of the ProView content licence agreement.
NB
An email with a registration key and instructions for accessing your eBook will be sent after checkout. For existing ProView users the eBook will appear in your library after checkout.

Forthcoming/pre-order eBooks will be available after the publication date.

The ProView app is not currently available on Kindle. See the latest system requirements