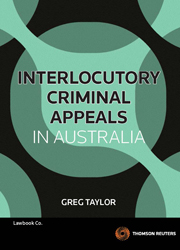 Interlocutory Criminal Appeals in Australia ebook
eBook - ProView

Date: 30/03/2016

Code: 9780455234700

Thomson Reuters, AUSTRALIA

Interlocutory Criminal Appeals in Australia ebook
Description
Interlocutory Criminal Appeals in Australia is a guide to the law and practice relating to appeals prior to or during a criminal trial. It is directed toward solicitors and barristers practising in criminal law in New South Wales, Victoria, South Australia and Western Australia, DPP's, Police prosecutors, Legal Aid and the Courts. It also contains scholarly analysis, comparative material and consideration of possible reforms.
This work considers the topic of interlocutory criminal appeals largely from a practical perspective, but also with some consideration of history, overseas law and future possibilities. The book is designed to provide guidance to criminal law practitioners on how interlocutory criminal appeals function – at the stage of seeking leave to appeal (if necessary), the appeal itself and the aftermath.
Resource Downloads
General Downloads
Product Reviews
*
eBooks and packages including an eBook may not be returned once the software key has been supplied. Your rights as a customer to access and use the ProViewâ"¢ software and a ProView eBook are subject to acceptance of the ProView content licence agreement.
NB
An email with a registration key and instructions for accessing your eBook will be sent after checkout. For existing ProView users the eBook will appear in your library after checkout.

Forthcoming/pre-order eBooks will be available after the publication date.

The ProView app is not currently available on Kindle. See the latest system requirements