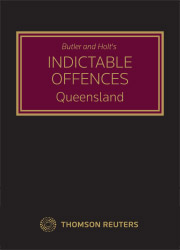 Indictable Offences Queensland
Online

Date: 15/09/2016

Code: 41711969

Thomson Reuters, AUSTRALIA

Enquiry Sent

A member of our support team will be in touch with you within 1 business day.

Sales Enquiry Form

Indictable Offences Queensland

For questions about how to use this product or to get help with your account please visit the Help Centre or Contact Support directly.
Description
Butler and Holt's Indictable Offences Queensland is an essential resource for practitioners in the criminal jurisdiction of the District and Supreme Courts of Queensland. Indictable Offences Queensland provides concise, consistently structured annotations to the Criminal Code (Qld) as well as to other key legislation.
General Editors District Court Judge Brendan Butler and Saul Holt QC lead an author team of experienced barristers. Annotations have been written by barristers Benjamin Dighton, Saul Holt QC, Mark McCarthy, Paula Morreau, Ben Power, Nicholas Tucker and Neville Weston.
KEY FEATURES
Concise, consistently structured annotations
Updated regularly
Focus on current law rather than historical analysis
Quick access to:

Form of indictment
Jurisdiction
Definitions
Proof of the offence (elements, penalty and defences)
Evidentiary issues
Sentencing (including comparable cases)
Cross-referencing to key Thomson Reuters' content in the Queensland Criminal Law Suite
including:
FirstPoint and cases
Summary Offences Queensland (Tucker and Mackenzie)
Queensland Sentencing Manual (Robertson)
Evidence Law in Queensland (Forbes)
KEY CONTENT
Thematic overview
The thematic overview is a navigational aid which will guide practitioners through a matter. It is a theme-based index to take readers, via cross-references and links, to the relevant Code provision and commentary.
The chronological order enables you to follow the path of an indictable proceeding. The overview also acts as a checklist of what needs to be considered for either a prosecution or a defence.
Criminal Code and essential legislation
Extensively annotated Criminal Code together with annotated legislation relating to key areas, including drugs, weapons, procedure, sentencing, bail and confiscation.
The work will be updated five times annually.
Table of Contents
Volume 1
Overview
The Code
Criminal Code Act 1899
Criminal Code (Annotated)
Rules
Criminal Practice Rules 1999
Drugs
Drugs Misuse Act 1986 (Annotated)
Procedure
Criminal Law (Sexual Offences) Act 1978
Justices Act 1886 (Extracts) (Annotated)
Jury Act 1995 (Annotated)
Bail
Bail Act 1980 (Annotated)
Volume 2
Weapons
Weapons Act 1990 (Extracts)
Vicious Lawless Association Disestablishment Act 2013
Sentencing
Penalties and Sentences Act 1992 (Annotated)
Police Powers
Police Powers and Responsibilities Act 2000 (Extracts) (Annotated)
Mental Health
Mental Health Act 2000 (Extracts)
Children and Young People
Youth Justice Act 1992 (Extracts)
Federal Offences and Procedure
Crimes Act 1914 (Cth) (Extracts)
Dangerous Prisoners Orders
Dangerous Prisoners (Sexual Offenders) Act 2003 (Annotated)