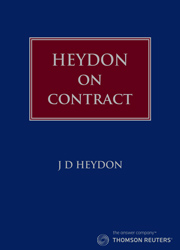 Heydon On Contract
Online

Date: 26/03/2019

Code: 41599613

Lawbook Co., AUSTRALIA

Enquiry Sent

A member of our support team will be in touch with you within 1 business day.

Sales Enquiry Form

Heydon On Contract

For questions about how to use this product or to get help with your account please visit the Help Centre or Contact Support directly.
Description
Heydon on Contract provides a detailed analysis of the law of contract for Australian practitioners. Providing unparalleled and compelling guidance on the fundamentals of contract law, the Honourable Dyson Heydon AC QC, has written an authoritative treatise, which will be valued by all seeking guidance on this key area of law.
Table of Contents
Part A - FORMATION
Chapter 1 - Capacity
Chapter 2 - Offer and Acceptance
Chapter 3 - Uncertain Agreements and Contingent Conditions Precedent
Chapter 4 - Intention to Effect Legal Relations
Chapter 5 - Consideration
Chapter 6 - Formal Requirements
Part B - THE TERMS OF THE CONTRACT
Chapter 7 - Express Terms
Chapter 8 - Construction of Terms: General
Chapter 9 - Construction of Terms: Extrinsic Circumstances
Chapter 10 - Implied Terms
Chapter 11 - Exemption Clauses
PART C - THIRD PARTIES
Chapter 12 - Third Party Rights and Obligations
Chapter 13 – Assignment
PART D- VITIATING FACTORS
Chapter 14 - Misrepresentation
Chapter 15 – Mistake
Chapter 16 – Duress
Chapter 17 – Undue Influence
Chapter 18 – Unconscientious Conduct
Chapter 19 – The Restraint of Trade Doctrine
Chapter 20 – Illegality other than Restraint of Trade
Part E - DISCHARGE of CONTRACTS
Chapter 21 – Performance and Breach
Chapter 22 – Discharge by Agreement
Chapter 23 – Discharge by Frustration
Chapter 24 – Discharge by Breach
Chapter 25 – Other Forms of Discharge
Part F - REMEDIES FOR BREACH
Chapter 26 – Damages
Chapter 27 – Specific performance
Chapter 28 – Injunctions
Chapter 29 – Lord Cairns' Act
Chapter 30 – Rectification
Chapter 31 - Rescission