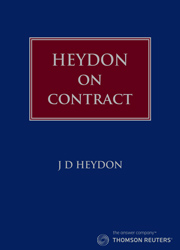 Heydon on Contract eBook
eBook - ProView

Date: 12/04/2019

Code: 9780455500218

Lawbook Co., AUSTRALIA
Description
Heydon on Contract provides a detailed analysis of the law of contract for Australian practitioners. Providing unparalleled and compelling guidance on the fundamentals of contract law, the Honourable Dyson Heydon AC QC, has written an authoritative treatise, which will be valued by all seeking guidance on this key area of law.
Table of Contents
Capacity
Offer and acceptance
Uncertain agreement and contingent condition precedent
Intention to affect legal relations
Consideration
Formal requirements
Express terms
Construction of Terms – General
Construction of Terms – Extrinsic circumstances
Implied terms
Exemption Clauses
Third party rights and obligations
Assignment
Mistake
Misrepresentation
Duress
Undue influence
Unconscientious conduct
Restraint of trade
Illegality other than restraint of trade
Lord Cairns' Act
Performance
Discharge by Agreement
Discharge by Frustration
Discharge by Breach
Other Forms of discharge
Damages
Specific performance
Injunctions
Rectification
Rescission
*
eBooks and packages including an eBook may not be returned once the software key has been supplied. Your rights as a customer to access and use the ProView™ software and a ProView eBook are subject to acceptance of the ProView content licence agreement.
NB
An email with a registration key and instructions for accessing your eBook will be sent after checkout. For existing ProView users the eBook will appear in your library after checkout.

Forthcoming/pre-order eBooks will be available after the publication date.

The ProView app is not currently available on Kindle. See the latest system requirements