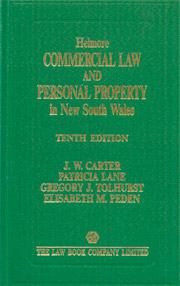 Helmore's Commercial Law & Personal Property in NSW, 10th Edition - PDF
PDF

Date: 01/11/1992

Code: 30127184

Thomson Reuters, AUSTRALIA

Helmore's Commercial Law & Personal Property in NSW, 10th Edition - PDF
Description
Helmore's Commercial Law & Personal Property has a long history, going back to the first edition in 1898 under the authorship of G. W. Millard. The work is seen as one of the established titles in Australia in commercial and personal property law.

In the two most recent editions, under the authorship of W. J. Chappenden and J. W. Carter, published in 1979 and 1985, it was titled Helmore's Personal Property and Mercantile Law in New South Wales. In those editions the authors adopted a policy of emphasising the commercial law aspects of the work. The current title reflects the evolution of the book to a work more concerned with commercial law than personal property.

* By downloading this PDF file you agree to the following:
1. That the file is for your sole use and purpose;
2. You may print this file but only if it is for your personal use;
3. You will not share or make copies of the PDF and will not permit the file to be published or distributed in any other way which is contrary to personal use.
You should note that this material is copyright protected. Please contact us if you would like permission to reproduce this content.