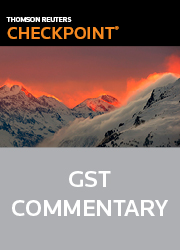 GST Commentary
Online

Date: 01/05/2013

Code: 41167566

Thomson Reuters, AUSTRALIA

Enquiry Sent

A member of our support team will be in touch with you within 1 business day.

Sales Enquiry Form

GST Commentary

For questions about how to use this product or to get help with your account please visit the Help Centre or Contact Support directly.
Available Formats
Format
Title
Date
Code
Price
Online
GST Commentary
01/05/2013
41167566

$1,481.71
Description
Thomson Reuter's GST Commentary service is structured division-by-division on a subject matter basis. This allows users to quickly locate the relevant provision and have it explained in the context of how the GST law works as a whole. The online-only service provides links to all relevant rulings, cases and legislation.
With the aim of providing Australia's leading GST analysis, it contains features specifically designed for both advisers and businesses. For example, the GST Commentary service features embedded updating links to the Thomson Reuters' renowned Weekly Tax Bulletin, which ensure that users are alerted to any recent developments that might affect the commentary. This ensures that users are always on top of any recent development. In addition, the service is updated on a monthly basis.
The GST Commentary service has recently been relaunched. As part of this process, all commentary has been rewritten and restructured, making it a fresher and more coherent statement of the current law. The comprehensive coverage is enhanced by detailed analysis and practical examples.
The GST Commentary team combines the skills of a very experienced in-house tax writing team and a truly diverse range of proven external writers: Big 4 partners and senior managers, tax lawyers, academics, ATO officers and freelance tax specialists. The rigorous commissioning and review process delivers commentary that combines the best of both worlds: practitioner insight, packaged in well structured, coherent uniform-style commentary.
Thomson Reuter's GST Commentary service is updated monthly.