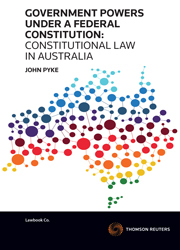 Government Powers under a Federal Constitution: Constitutional Law in Australia
Book

$96.80* $121.00 RRP Save: $24.20 (20%)

Date: 26/01/2017

Code: 9780455238999

Lawbook Co., AUSTRALIA

Government Powers under a Federal Constitution: Constitutional Law in Australia

Sale Price:

$96.80

Saving: $24.20
Description
Government Powers under a Federal Constitution provides a comprehensive analysis of the key areas of constitutional law in Australia and contains insightful explanations of the many issues students will have to address in this complex area of law.
The structure of this text emphasises that the Commonwealth Constitution not only establishes the branches of the Commonwealth Government, but also, and quite necessarily, imposes limits on State powers.
With this underlying perspective, the text has been separated into the following parts:
Constitutional Concepts and their History
General Principles of Constitutional Law and Litigation
General Constitutional Doctrines Applying to the Executive and Legislative Powers of the Commonwealth and States
Doctrines Applying Specifically to the Commonwealth Parliament
Doctrines Applying Specifically to the States
The Constitutional Status of the Territories
Possible Changes to the Constitution and the Federation.
This is a book for the present and future. The issues raised in this book invite readers to anticipate developments that may occur in the future in the hope that readers may play a part in shaping future constitutional debates.