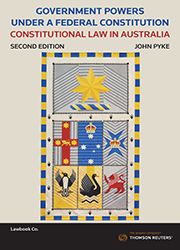 Government Powers under a Federal Constitution 2nd edition
Book

Date: 06/01/2020

Code: 9780455244150

Lawbook Co., AUSTRALIA

Government Powers under a Federal Constitution 2nd edition
Description
In this new edition of Government Powers Under a Federal Constitution, John Pyke responds to the change that has taken place in constitutional case-law in the past few decades by grouping the topics in a completely new way. The newer developments in political free speech, voting rights, and the protection of the independence of State judiciaries by the Kable doctrine are grouped with older cases on just terms, the rule of law and the separation of powers at the Commonwealth level to show Constitutional Law as, at least in part, a way of enforcing individual rights. Its more traditional role as the divider of powers between the Commonwealth and States has not, of course, gone away, so it is the focus of the other major part of the book – but it is noticeable that there have been very few new cases in this area in the last decade; the emphasis has swung towards Constitutional Law as Human Rights Law. While still paying due regard to the older themes that used to dominate constitutional argument, this is a book on Constitutional Law for the 2020s.
Table of Contents
GOVERNMENT POWERS UNDER A FEDERAL CONSTITUTION:
Constitutional Law In Australia – 2nd edition
Chapters
Part A - Constitutional Concepts and Their History
1. The Significance of Constitutions and Constitutional Law
2. Sources of Constitutional Ideas
3. The Colonisation of Australia and the development of six self-governing colonies
4. Federation and the Creation of the Commonwealth Constitution
5. Independence - From the Sovereignty of the UK Parliament to the Sovereignty of the People
Part B - General Principles of Constitutional Law and Litigation
6. The Constitution as Supreme Law, and an Outline of its Provisions
7. Constitutional Litigation
8. General Principles of Interpretation of the Commonwealth Constitution
Part C. The "branches" of government, general limits on their powers, and consequences for individual rights
C1. Parliamentary powers and limits on them, other than federal limits
The structure of Parliaments and voting rights
9. Commonwealth Parliament: the direct choice of members by the people
10. Commonwealth Parliament: the law-making process.
11. State and Territory Parliaments: the law-making process and special limits on it
Limits (and non-limits) applying to all Parliaments in Australia
12. The constitutional freedom of political communication
13. Four non-limits on legislative powers
14. Interpretation of legislation to protect rights - 'quasi-constitutional' principles and mechanisms
Limits specific to Commonwealth Laws
15. Just terms for the acquisition of property
16. Other express - but sometimes weak - constitutional protections of rights
C2. Executive power and its subjection to law
17. Governors and Ministers - dignified fictions and the reality of executive power
18. Sources of executive power
19. Parliamentary control of taxation and government spending
20. Modern developments in the Rule of Law
C3. Limits inherent in the nature of judicial power
21. Commonwealth judicial power not to be given to non-judicial bodies
22. Commonwealth judicial bodies to be independent, and not to be given significant non-judicial power
23. Effect of the Commonwealth Constitution on State Courts and Tribunals
Part D. The federal division of legislative powers
D1. The range of Commonwealth legislative powers
24. Sources and Interpretation of Commonwealth Legislative Powers
25. Business-regulation powers
26. Nation-State powers
27. "Social' powers
28. Financial powers
29. "Federal" limitations on Commonwealth powers
D2. The effects of the Commonwealth Constitution on the States and Territories
30. General effects of the Commonwealth Constitution on States' powers – concurrent powers, Commonwealth exclusive powers, and prohibitions
31. States not to impose customs or excise duties
32. Freedom of interstate trade, commerce and intercourse
33. Discrimination against out-of-State residents prohibited
34. Inconsistency with laws of the Commonwealth
35. Intergovernmental immunities
36. Final note on the States, and the drive for more uniform laws
37. The Territories – like States in some ways but not in others
Part E – Possible Changes to the Federation
38. New States, and Changing the Boundaries of States
39. Formal Alteration of the Constitution – the Record So Far and Current Issues