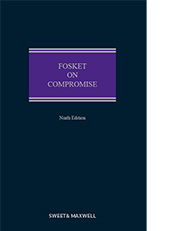 Foskett on Compromise 8th edition eBook
eBook - ProView

Date: 24/08/2015

Code: 9780414052253

Sweet & Maxwell, UNITED KINGDOM

Foskett on Compromise 8th edition eBook
Description
This book provides authoritative guidance on the law of compromise, enabling disputing parties to avoid litigation wherever possible. It sets out the legal foundations and essential requirements of compromise. It provides practitioners with the information necessary to make use of the tools provided under the Civil Procedure Rules and explains the various contexts in which they can be applied.
COVERAGE
Shows how to make use of the tools provided under the Civil Procedure
Rules for offering settlements and avoiding litigation
Explains the procedure of compromise, with particular attention to Part 36 of the CPR
Considers the consequences of a compromise and the effects of a breach
Deals individually with compromise in different types of dispute, including Chancery litigation, matrimonial, family and inheritance disputes, insurance, serious personal injury claims involving children or patients, employment contract disputes, and landlord and tenant, boundary, and construction disputes
Examines the enforcement of a compromise and how a compromise is put into effect
Offers advice on best practice throughout
Analyses the role of compromise in arbitrations, appeals and ADR
Discusses the proper role of legal advisers (whether barrister, solicitor or other appropriate representative) in the process of compromise, including consideration of skills, responsibilities, obligations and liabilities
Covers related costs issues
Explains the practice of challenging the validity of a compromise in order to have it set aside
Features an extensive range of precedents for drafting offers to settle
Reproduces relevant legislation and practice directions
HIGHLIGHTED NEW COMMENTARY INCLUDES
Updated text to take into account recent Supreme Court cases of importance including Dunhill v Burgin, Rainy Sky SA v Kookmin Bank, Oceanbulk Shipping & Trading SA v TMT Asia Ltd & Ors and Barnes v Eastenders Cash & Carry plc
Updated text to take into account Court of Appeal cases such Pannone LLP v Aardvark Digital Ltd, Gladman Commercial Properties v Fisher Hargreaves Proctor & Ors, Gossage v Bishton, Watson v Sadiq, Zurich Insurance Co Plc v Hayward, Wallace v Follett and Co-Operative Group Ltd. v Birse Developments Ltd
Developments with Part 36 including the most recent amendments and cases such as Howell & Ors v Lees-Millais & Ors, Commissioners for HM Revenue and Customs v Blue Sphere Global Ltd, Phi Group Ltd v Robert West Consulting Ltd, Solomon v Cromwell Group Plc, Fox v Foundation Piling Ltd and Coward v Phaestos Ltd
New learning on mediation including the effect of Court of Appeal decisions including Wright v Wright, PGF II SA v OMFS Company 1 Limited and Swain Mason v Mills & Reeve
Updated text in all areas to take account of recent developments including the current Chancery Guide and a number of cases in the matrimonial finance sphere concerning the setting aside of consent orders
*
eBooks and packages including an eBook may not be returned once the software key has been supplied. Your rights as a customer to access and use the ProView™ software and a ProView eBook are subject to acceptance of the ProView content licence agreement.
NB
An email with a registration key and instructions for accessing your eBook will be sent after checkout. For existing ProView users the eBook will appear in your library after checkout.

Forthcoming/pre-order eBooks will be available after the publication date.

The ProView app is not currently available on Kindle. See the latest system requirements