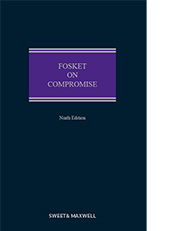 Foskett on Compromise 8th edition eBook
eBook - ProView

Date: 24/08/2015

Code: 9780414052253

Sweet & Maxwell, UNITED KINGDOM

Foskett on Compromise 8th edition eBook
Description
A compromise is the settlement of a dispute by mutual concession. Generally speaking a compromise occurs most often in a private law context, which is to say in disputes between individuals and/or commercial entities. A compromise can emerge from negotiations either before or after the commencement of litigation or arbitration proceedings and whether or not facilitated by mediation.

The purpose of Foskett on Compromise is to provide practitioners with a comprehensive and authoritative analysis of the legal framework for the resolution of disputes and the practical implications of the process of settlement however that settlement is achieved and whether it is a dispute within a domestic jurisdiction or involves cross-border implications.
Features
Provides authoritative guidance on the law of compromise.
Establishes the legal foundations of compromise and the essential requirements of a valid compromise.
Goes through the procedure of compromise, its machinery and methods, with particular attention to Part 36 of the CPR in connection with disputes resolved within England and Wales.
Considers the consequences of a compromise and the effects of a breach.
Examines the enforcement of a compromise and how a compromise is put into effect.
Explains the practice of challenging the validity of (or 'impeaching') a compromise in order to have it set aside.
Deals individually with different types of dispute, including: settlements in Chancery litigation; matrimonial, family and inheritance disputes; serious personal injury claims involving children or patients; employment contract disputes; disputes in administrative law; landlord and tenant, boundary, and construction disputes.
Includes analysis of the compromise of arbitrations, domestic and international, appeals and compromises achieved through all forms of ADR.
Discusses the proper role of legal advisers (whether barrister, solicitor or other appropriate representative) in the process of compromise, including consideration of skills, responsibilities, obligations and liabilities.
Covers insurance interests and compromise.
Offers guidance and advice throughout as to best practice, for example as to what professional ethics and responsibility require in various situations.
Covers all aspects of the settlement of international commercial disputes whether achieved with the assistance of mediation or otherwise.
New to this edition
A new chapter on the settlement of international commercial disputes including a detailed analysis of 'The Singapore Convention'.
New guidance on early neutral evaluation in all cases and on mediation and toher forms of ADR generally
Updates on cases concerning the "without prejudice" privilege
Updates on cases concerning Tomlin Orders
Update on the court's approach to Part 36 offers and the role of Calderbank offers in general civil litigation
In the matrimonial jurisdiction, consideration of the post-Radmacher cases (including the Court of Appeal decisions in Versteegh and Brack); new guidance on setting aside consent orders on grounds of non-disclosure following the Supreme Court decisions in Sharland and Gohil; new analysis of setting aside and rectification of orders on the basis of mistake; and, new guidance on set aside applications and appeals following the introduction of FPR 2010 r. 9.9A and PD9A
*
eBooks and packages including an eBook may not be returned once the software key has been supplied. Your rights as a customer to access and use the ProView™ software and a ProView eBook are subject to acceptance of the ProView content licence agreement.
NB
An email with a registration key and instructions for accessing your eBook will be sent after checkout. For existing ProView users the eBook will appear in your library after checkout.

Forthcoming/pre-order eBooks will be available after the publication date.

The ProView app is not currently available on Kindle. See the latest system requirements