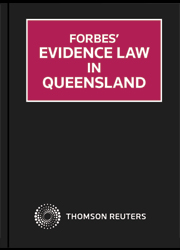 Forbes' Evidence Law in Queensland - Online
Online

Date: 30/11/2018

Code: 42559924

Thomson Reuters, AUSTRALIA

Enquiry Sent

A member of our support team will be in touch with you within 1 business day.

Sales Enquiry Form

Forbes' Evidence Law in Queensland - Online

For questions about how to use this product or to get help with your account please visit the Help Centre or Contact Support directly.
Description
Forbes' Evidence Law in Queensland provides reliable, up-to-date and comprehensive commentary on the law of evidence. It provides the only available annotation of the Evidence Act 1977 (Qld), distilled for the reader through Dr John Forbes' many years of expertise.
This annotation of Queensland's evidence legislation speaks with proven authority. Helpful introductory chapters outline the foundations of Queensland's evidence law, followed by John Forbes' provision-by-provision analysis of the Act. Each section is reproduced in full and augmented by his unique commentary, to provide both important context & precision analysis.
Previously, John Forbes has applied his expertise to twelve editions of his evidence law book. That unique content is now available as an updated subscription work that is updated twice annually to maintain an authoritative resource for practitioners, law enforcement professionals and the courts.
A Complete Solution for Queensland Practitioners
Forbes' Evidence Law in Queensland complements the following Thomson Reuters products, to provide a complete suite for criminal law practitioners in Queensland, on Westlaw:
Indictable Offences Queensland
Table of Contents
History and Common Law Foundations
Evidence Act 1977–2016
Witnesses: Competence, Compellability, Cross-examination and Protection
Taking Evidence Outside the Court: Evidence on Commission and Kindred Procedures
Facilitating the Proof of Legislative and Official Documents
Proof of Certain Miscellaneous Documents
Proof of Interstate and Overseas Laws and Records and Convictions in Civil Cases
Documentary Hearsay
Machine Copies Treated as Originals
Simplifying Proof, Discretionary Exclusion of Admissible Evidence, Sentencing, Similar Facts
Other Queensland Legislation
Commonwealth Evidence Law
Index
*