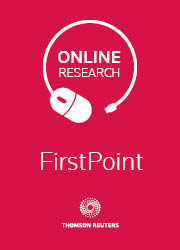 FirstPoint
Online

Date: 17/03/2005

Code: 41116154

Lawbook Co., AUSTRALIA

Enquiry Sent

A member of our support team will be in touch with you within 1 business day.

Sales Enquiry Form

FirstPoint

For questions about how to use this product or to get help with your account please visit the Help Centre or Contact Support directly.
Available Formats
Format
Title
Date
Code
Price
Online
FirstPoint
17/03/2005
41116154

N/A
Description
FirstPoint (powered by The Australian Digest) is an online case law research tool that provides citation information, reliable summaries of important cases and makes it easy to find similar and related cases. Powered by the Australian Digest, it is the only Australian case law research tool with easy subject based browsing.

FirstPoint makes case law research quick, easy and accurate, and provides a single entry hub for
a range of case law content including Australia's largest collection of authorised and specialist law reports.

Key Benefits
"FirstPoint helps researchers do their job better and faster"
FirstPoint helps researchers find cases, and information about cases, quickly and easily.
FirstPoint helps researchers focus on particular areas of law, even obscure or historical subjects.
FirstPoint helps researchers narrow their focus from a large number of potential relevant cases, down to a small number of on-point authorities.
Once cases are found, FirstPoint's authoritative summaries and citator information helps researchers to assess the relevance of any given case quickly and efficiently.
Using FirstPoint, once you've found just one case on a particular point of law, you can find all cases, including the most recent, on that point of law.
FirstPoint is a hub for case law research – providing links to full text case law in html and PDF formats (additional subscriptions required).
FirstPoint can be fully integrated into your intranet – making access to information about cases even easier.
FirstPoint's simple design keeps training and implementation time to a minimum.

Key Features
"A great research tool – designed for online"
Information on individual Australian case law from 1825 to the present day, with over 15,000 new cases added every year.
Daily updates.
Builds on the well-respected and vast historical archive of the Australian Digest and Australian Case Citator.
Thomson Reuters detailed legal classification scheme allows you to browse through the scheme to find all cases classified to a particular subject. Leading Australian courts also use the scheme.
Each significant point of law in a case is classified to the scheme and a case can have multiple classifications.
Active breadcrumb trails show you exactly 'where you are' in the scheme and provide instant 'get me more cases like this' functionality.
Key case details – name and date of judgment, judges presiding, litigation history, cases, legislation and words and phrases judicially considered, plus cases and journal articles citing the case.
Case digest notes provide summaries of the points of law discussed in key cases even for historical case law.
Case status flags give you a quick guide to the nature of subsequent consideration of the decision.
Case references in other Thomson Reuters services link directly to FirstPoint, and links within FirstPoint take you directly to related FirstPoint records, Australian Legal Journals Index records and full text case law in PDF or HTML (additional
subscriptions required).
Simple search interfaces and the ability to browse by subject means you get results quickly and efficiently.
Straightforward options to sort and refine your search or browse results.
Track research using the research trail, and save searches and results using the single-click bookmark feature.
Designed with customer input, FirstPoint is intuitive and easy-to-use even for those unfamiliar with online research.
Email and print optimised PDF output options available for all results.
New FirstPoint Online Training Tutorial
The tutorial provides self-paced training modules designed to get you started with Thomson Reuters FirstPoint. Featuring audio and visual elements to maximize the training experience. Simply click
Start Now
to begin the tutorial.