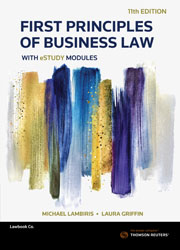 First Principles of Business Law with eStudy modules 11th Edition
Book

Date: 27/05/2020

Code: 9780455244488

Lawbook Co., AUSTRALIA

First Principles of Business Law with eStudy modules 11th Edition
Description
First Principles of Business Law with eStudy modules 11th edition offers an integrated and structured approach to learning business law. The textbook introduces and explains legal topics in a clear and well-ordered sequence with summaries of over 200 decided cases illustrating key legal principles. Selected extracts from relevant legislation are also included to support ease of learning. The eStudy modules compliment the textbook and provide self-paced, interactive engagement with the topics to develop further understanding of the law and the skills necessary for applying legal rules appropriately in practical situations. The modules provide hundreds of questions and examples, with instant feedback to answers.
Accessing the eStudy modules: The eStudy modules are accessible by means of an ordinary standard browser such as Microsoft Edge, Chrome or Safari.
A Teacher's Guide is available under licence to teachers who have prescribed the First Principles of Business Law materials for their students. Prepared by the authors, this 208 page Guide provides suggestions for incorporating topics into lectures, small group sessions, or remote learning. The topics are all supported by the textbook and eStudy modules. To access the Guide, please contact your Academic Books Account Executive.
Company Law Supplement: From 22 January 2022, four new chapters on Company Law are available as an eBook.
Table of Contents
1. An Introduction to Legal Studies
2. Government and Law in Australia
3. Sources of Law: Legislation
4. Sources of Law: Case Law
5. Finding Law Online
6. Making a Contract
7. The Contents of a Contract
8. Performance and Breach of Contract
9. Remedies for Breach of Contract
10. Circumstances that May Invalidate a Legal Transaction
11. Statutory Provisions Affecting Contracts for Goods and Services
12. The Regulation of Undesirable Business Practices
13. Liability in Tort for Wrongful Conduct
14. The Tort of Negligence
15. Remedies in Tort
16. Property Law
17. The Law of Agency
18. Business Organisations
19. Selected Legislative Provisions
*There is an eStudy module for each chapter of the book, plus some revision exercises and self-assessment quizzes.
The following chapters are available in the Company Law Supplement eBook (available 22 January 2022):
20. The Concept and Characteristics of a Company
21. The Management and Operation of a Company
22. The Financing of Companies
23. Company insolvency and its consequences