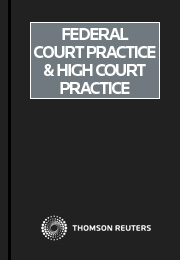 Federal Court Practice and High Court Practice
Looseleaf

Date: 11/09/2012

Code: 30116013

Lawbook Co., AUSTRALIA

Enquiry Sent

A member of our support team will be in touch with you within 1 business day.

Sales Enquiry Form

Federal Court Practice and High Court Practice

For questions about how to use this product or to get help with your account please visit the Help Centre or Contact Support directly.
Description
Federal Court Practice & High Court Practice is your authoritative guide to the practice and procedure of the High Court of Australia and the Federal Court of Australia and provides in-depth examination of the rules and procedures of both courts in a readily accessible manner. The author, Justice Geoffrey Flick is a judge of the Federal Court of Australia and the distinguised author of Federal Administrative Law.

Federal Court
The Federal Court coverage includes the annotated Federal Court Act and Regulation, the Federal Court Rules,practice notes as well as a number of essential court and practice materials relating to costs, evidence and cross-vesting. The extensive annotations and commentary contain comprehensive coverage of the most relevant judicial decisions.

High Court
The High Court material includes annotated procedural legislation for the High Court, Constitution with key section annotations, practitioner rules, practice notes, fees and forms. The commentary contains in-depth analysis of the legislation and how it relates to practice in the High Court.

With Federal Court Practice & High Court Practice you have a current, clear and authoritative practice tool to prepare for litigation and to take to court.
(Also available separately in looseleaf format Federal Court Practice under code 30142134 and High Court Practice under code 30113647).
* Subscription price includes 12 months of updating releases. Further updates invoiced separately.