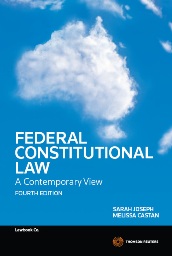 Federal Constitutional Law: A Contemporary View 4e ebook
eBook - ProView

Date: 02/07/2014

Code: 9780455232966

Thomson Reuters, AUSTRALIA

Federal Constitutional Law: A Contemporary View 4e ebook
Description
Federal Constitutional Law: A Contemporary View, 4th Edition
This fourth edition of Federal Constitutional Law: A Contemporary View continues the book's tradition of elucidating the potentially difficult discipline of Australian federal constitutional law in an analytical, accessible and engaging way. The authors, Professor Sarah Joseph and Melissa Castan, examine contemporary perspectives, the latest developments and likely future directions of constitutional law, and supplement primary materials with their narrative-style commentary.
Features of this edition include:
· developments in executive power, separation of judicial power, inconsistency, the federal power to spend, freedom of interstate trade, implied freedom of political speech, the right to vote, and Indigenous issues;
· extracts and analysis of the latest cases, including Williams v Commonwealth ("school chaplains case"), Wotton v Queensland, Attorney-General (South Australia) v City of Adelaide ("street preachers case"), Monis v The Queen, Unions NSW v NSW, Rowe v Electoral Commissioner, Fortescue Metals Group Ltd v Commonwealth ("mining tax case"), Betfair #2, JT International v Commonwealth ("plain packaging case"), Dickson v The Queen, ICM Agriculture v Commonwealth, Commonwealth v ACT ("same sex marriage case"), Momcilovic v The Queen and the series of cases addressing the Kable principle (including the "bikie" cases);
· accessible, reader-friendly commentary and layout; and
· straightforward explanations and analysis.
Federal Constitutional Law: A Contemporary View, 4th Edition is a leading text on federal constitutional law in Australia. It is a considered and scholarly understanding of the Australian federal Constitution, an essential companion to today's students, researchers and practitioners of constitutional law.
Table of Contents
1 Introduction
2 Characterisation of Commonwealth Laws
3 The Corporations Power
4 The External Affairs Power
5 The Commonwealth Executive
6 Separation of Judicial Power
7 Inconsistency
8 Intergovernmental Immunities
9 Excise Duties
10 Spending Government Revenue – The Grants and Appropriations Powers
11 Freedom of Interstate Trade, Commerce and Intercourse
12 Express Rights
13 Implied Political Rights and Freedoms
14 General Themes in Federal Constitutional Law
Appendix – Commonwealth of Australia Constitution
*
eBooks and packages including an eBook may not be returned once the software key has been supplied. Your rights as a customer to access and use the ProView™ software and a ProView eBook are subject to acceptance of the ProView content licence agreement.
NB
An email with a registration key and instructions for accessing your eBook will be sent after checkout. For existing ProView users the eBook will appear in your library after checkout.

Forthcoming/pre-order eBooks will be available after the publication date.

The ProView app is not currently available on Kindle. See the latest system requirements