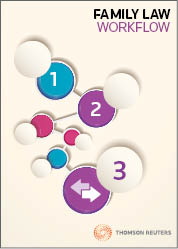 Family Law Workflows
Online

Date: 30/11/2014

Code: 41580533

Thomson Reuters, AUSTRALIA

Enquiry Sent

A member of our support team will be in touch with you within 1 business day.

Sales Enquiry Form

Family Law Workflows

For questions about how to use this product or to get help with your account please visit the Help Centre or Contact Support directly.
Description
Family Law Workflows is a practice solution designed to help you more efficiently achieve outcomes for your clients by providing step-by-step guidance through the processes of legal work.
For practitioners perhaps not so familiar with family law as well as junior lawyers and their supervisors, Family Law Workflows will benefit both your practice and your business.
It is comprised of navigation schematics, which are visual maps of legal processes and procedures. Supporting these diagrams are interactive tools and resources including checklists, decision trees and flowcharts. With contextual information and templates as needed, and tips and alerts to provide practical assistance, Family Law Workflows offers a transparent and consistent approach to your work that maximises time and cost efficiencies while minimising risk.
Family Law Workflows is based on the Commonwealth jurisdiction of family law practice. The first two topics available on release, "Ending a Relationship" and "Property Distribution", have now been followed by "Children's Matters", which covers parenting plans and orders; relocation and recovery orders; and preliminary guidance for suspected international child abduction from Australia. Future development will include treatment of "Child Support" to round out coverage of the practice area as a whole. Practitioners in Western Australia should refer to Family Law (WA) Workflow, which has been adapted for the needs of their jurisdiction.
Family Law Workflows is a practice solution designed to equip you for matters regardless of whether your client is dealing with the end of a marriage or a de facto relationship, or is the applicant or respondent in litigation before the Federal Circuit Court or Family Court of Australia.
A valuable resource on its own, the strength of Family Law Workflows is most apparent when accessed in conjunction with other family law products on the Westlaw AU platform. Subscription to Family Law Precedents – Legal Precedents NSW (suitable for all jurisdictions) enables deep links within the workflow to the relevant downloadable document so you can complete your paperwork and readily return to the schematics. Similarly, should you need to pursue further research, Dickey's Family Law with Legislation and other primary research publications including The Laws of Australia and FirstPoint are easily accessible, depending on your subscription profile.
Practitioners in NSW firms which offer both family law and conveyancing practices should also consider subscribing to the equivalent online products and solutions for conveyancing in that state: Conveyancing NSW Workflows, Conveyancing Precedents – NSW Law Society and Conveyancing Manual NSW.
Features
Multiple topics - starting with "Ending a Relationship" and "Property Distribution" on release, to be followed by "Children's matters" and "Child Support" among others
Navigation schematics - visual maps of legal processes and procedures that efficiently guide you step by step towards the outcomes your clients require.
Interactive tools - supporting checklists, decision trees and flowcharts that provide transparency and consistency in your legal work.
Tips and alerts - guidance and supplementary information highlighting areas of obligation and regulation to help minimise risk.
Forms and precedents - client information sheets and Asset & Liability calculator are part of the product. The workflow indicates when court forms, precedents and other documentation is required in context. Subscription to Family Law Precedents – NSW Law Society (on Westlaw AU) enables links to downloadable documents for immediate use.
Same platform access - related research publications and additional precedents suites also available on Westlaw AU, subject to subscription.