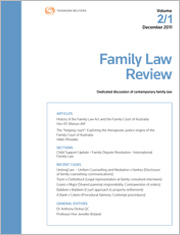 Family Law Review: Parts
Journal

Date: 13/09/2012

Code: 30136167

Lawbook Co., AUSTRALIA

Enquiry Sent

A member of our support team will be in touch with you within 1 business day.

Sales Enquiry Form

Family Law Review: Parts

For questions about how to use this product or to get help with your account please visit the Help Centre or Contact Support directly.
Description
Dedicated discussion of contemporary family law

This peer-reviewed journal takes an interdisciplinary approach to a broad range of family law issues, including: family dispute resolution; children and parenting matters; property settlement and financial arrangements; child support; de facto relationships; international family law; and family law practice and procedure.
A dedicated forum for the discussion of contemporary family law issues, Family Law Review also monitors emerging developments in family law practice.
The broad range of topics covered - and the combination of analytical articles and practice-focused commentary - provides guidance and insight for family law practitioners and academics alike.
In addition to peer-reviewed, feature articles, Family Law Review provides topical and practice-focused commentary in dedicated sections, including: Professional Insights, Family Dispute Resolution, Child Support, Children and Parenting and more. The journal also provides summaries of significant recent Family Court decisions in the Recent Cases section.
The journal is overseen by General Editor Dr Richard Ingleby, leading family law practitioner with extensive academic experience.

The General Editor is assisted by a specialist Editorial Board, consisting of members of the judiciary, experienced family law practitioners and academics, to provide extensive coverage of significant issues and developments in family law.

Online, the journal features links to judgments and other online publications, while allowing for individual articles to be downloaded in pdf format or received via RSS feed.

To access articles, and information on the complete journals portfolio, or to submit an article or join our community and have your say, visit Journals Talk at http://sites.thomsonreuters.com.au/journals/.
* Price is for an annual subscription and includes approx 4 Parts per year. Does not include Backset which is available separately at an additional price.