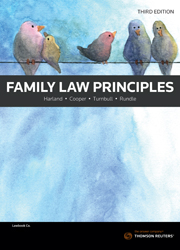 Family Law Principles Third Edition - Book
Book

New Release, 11/06/2021

Code: 9780455244532

Lawbook Co., AUSTRALIA

Family Law Principles Third Edition - Book
Description
Family Law Principles is different from other family law texts written in Australia because it covers areas that are important in practice, such as family law reports, how courts consider social science research, and emerging areas in family law. It also takes a practical approach to practice and procedure, systematically dealing with the types of applications before courts, providing analytical guidelines, checklists and summaries of key components.
This third edition is a comprehensive consolidation of the second. It builds on the structural approach of the second, combining key areas for clarity and accessibility. This edition brings a thorough examination of recent developments in the law, including examining the court's approach to COVID-19 issues in the context of the unacceptable risk test. Like the second, this edition covers the family dispute resolution system and legislative obligations of both lawyers and family dispute resolution practitioners. It traverses the vexed issue of family law ethics, highlighting critical aspects of the best practice guidelines for family lawyers, independent children's lawyers and family report writers. It provides a unique framework to assist practitioners in resolving ethical dilemmas.
This edition, like its predecessors, contains a separate,dedicated chapter on the critical issue of family violence and child abuse.
The discussion on parenthood, parenting and responsibility, examines children's rights to identity and recognition of their family, the evolving nature of parenthood, including analysis of the High Court decision of Masson and Parsons [2019] HCA 21. It also discusses recent developments concerning the legal and medical understanding of gender dysphoria, including recent Australian decisions and the United Kingdom decision of Bell and the Tavistock and Portman NHS Foundation Trust & Ors [2020] EWHC 3274 (Admin).
This edition's financial sections are re-written in parts - arising from multiple controversies since the second edition. These include High Court cases on rights of third parties in property settlement cases, financial agreements and property rights as between spouses. Significant restructuring of the property and advanced property chapters derive from Full Court of the Family Court of Australia decisions on the division of property, including questions of the "threshold" of whether to make any order and structural approaches to the exercise of discretion. A new approach to advanced property issues brings each issue within the structure of each of the essential findings. In particular, this edition further expands the examination of financial agreements, analysing the well-known High Court decision of Thorne v Kennedy [2017] HCA 49 and vitiating factors affecting the validity and enforceability of agreements.
The international family law issues component includes a discussion of the recent High Court decision of Clayton and Bant [2020] HCA 44 addressing the principles of res judicta, cause of action estoppel and Anshun estoppel.
Family Law Principles combines a unique range of experience, a Federal Circuit Court Judge, a Federal Circuit Court/Family Court of Australia Registrar and authors with practical experience in family law, family dispute resolution practice, and teaching, together with policy and theory research.
Table of Contents
Family Law Principles 3e
Table of Contents
1. The Many Meanings of Family and Family Law
2. Family Courts and Jurisdiction
3. Marriage, Nullity and Divorce
4. The Family Law Dispute Resolution System
5. Legislative Obligations in Family Dispute Resolution
6. Violence in the Family
7. Parenthood, Parentage and Parental Responsibility
8. Children and the Family Law Act
9. Relocation of Children
10. Family Violence and Child Abuse in Parenting Cases
11. Expert Evidence and the Role of Social Science in Family Law
12. Alteration of Property Interests
13. Advanced Property Topics
14. Financial Aspects of De facto and Other Formalised Relationships
15. Maintenance
16. Financial Support for Children: Child Maintencance and Child Support
17. Family Lawyers: Ethics and Values
18. International Family Law Issues
19. Hague Convention Civil Aspects of International Child Abduction
*
Family Law Principles is different from other family law texts written in Australia because it covers areas that are important in practice, such as family reports, how courts consider social science research, and also emerging areas in family law.