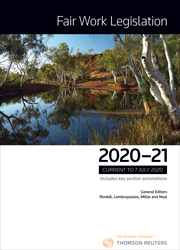 FAIR WORK LEGISLATION 2020-2021 EBOOK
eBook - ProView

Date: 03/08/2020

Code: 9780455501758

Thomson Reuters, AUSTRALIA

FAIR WORK LEGISLATION 2020-2021 EBOOK
Description
Fair Work Legislation 2020– 21 contains federal workplace legislation fully consolidated to 7 July 2020 and is designed for use by practitioners, business professionals and students. It is an essential reference to the Fair Work regime, featuring annotations to key provisions of the Fair Work Act 2009, written and selected by General Editors Mark Rinaldi, Victoria Lambropoulos, Rohan Millar and Aaron Neal.
Key features
Consolidated version of the core federal workplace legislation in one handy volume with key section annotations to the Fair Work Act 2009
Annual Review by the General Editors highlighting the developments of the past twelve months
Editorial inclusions to the legislation such as details of any future commencements (ie post 7 July 2020), cross-references indicating where a regulation or rule affects a section and history notes capturing changes down to subsection level.
Highlights of this edition
The insertion of the new Part 6-4C into the Fair Work Act 2009, the commencement of the Coronavirus Economic Response Package (Payments and Benefits) Rules 2020 and amendments to the Paid Parental Leave Act 2010 as made by the Paid Parental Leave Amendment (Flexibility Measures) Act 2020.
New articles of interest on the employment law impacts of COVID-19, legislative responses to it (including the new Part 6-4C of the Fair Work Act 2009) and Fair Work Commission decisions dealing with matters arising under the new provisions. The two articles are JobKeeper and the Fair Work Act 2009 (Cth) – Workplace relations and legislative response to COVID-19 by Aaron Neal and Stand Down and the taking of Annual Leave under the Fair Work Act (Cth) before Coronavirus by Dr Victoria Lambropoulos.
Important cases in the areas of industrial action (Australian Rail, Tram and Bus Industry Union v Metro Trains Melbourne Pty Ltd [2020] FCAFC 81), enterprise agreement approval (Construction, Forestry, Maritime, Mining and Energy Union v OS ACPM Pty Ltd [2020] FWCFB 2434), anti-bullying(Mayson v Mylan Health Pty Ltd [2020] FWC 1404; Luong v Carers of Africa Inc [2020] FWCFB 373; Re Kennedy [2020] FWC 1405), adverse action (Western Union Business Solutions (Australia) Pty Ltd v Robinson [2019] FCAFC 181; King v PIA Mortgage Services Pty Ltd v King [2020] FCAFC 15) and unfair dismissal (Gupta v Portier Pacific Pty Ltd [2020] FWCFB 1698, confirming that an Uber Eats delivery driver was not an employee, and was thus unable to bring an unfair dismissal claim in the Fair Work Commission) are included in this new edition's revised and expanded commentary, and referred to in the annual Year in Review discussion by the general editors, making Fair Work Legislation an indispensable part of any employment law practitioner's or academic's professional library.