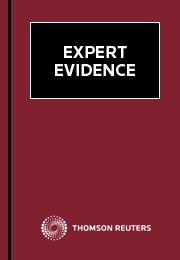 Expert Evidence
Online

Date: 01/12/2006

Code: 41167248

Lawbook Co., AUSTRALIA

Enquiry Sent

A member of our support team will be in touch with you within 1 business day.

Sales Enquiry Form

Expert Evidence

For questions about how to use this product or to get help with your account please visit the Help Centre or Contact Support directly.
Description
Expert Evidence is the resource for preparation and case presentation by litigation lawyers (both civil and criminal), forensic specialists and any expert engaged in investigations and hearings.
Expert Evidence is offered in a variety of formats as follows:
1. For litigators in Australia and New Zealand needing timely, accurate advice about the law of expert evidence or an expert field, this is the ideal online product for you.
2. Should you be more interested in the paper version of this product, please click here.
3. If your need is for a concise version of Expert Evidence: Law, Practice, Procedure and Advocacy click here.