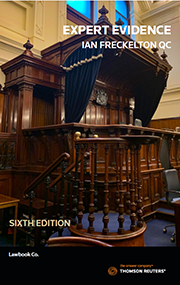 Expert Evidence: Law Practice, Procedure & Advocacy 6e book + ebook
Book+eBook

Date: 02/10/2019

Code: 41957460

Lawbook Co., AUSTRALIA

Expert Evidence: Law Practice, Procedure & Advocacy 6e book + ebook
Description
"Its value to practitioners hardly requires elaboration ... Many a barrister faced with the daunting task of cross-examining an expert ... has turned to Freckelton's text in his or her hour of need and found invaluable assistance... (This) work is commendably ambitious. It is difficult to think of a field of forensic expert evidence which is not discussed." - The Hon Justice Christopher Beale, Supreme Court of Victoria, (2020) 44 Crim LJ 196
Expert Evidence: Law, Practice, Procedure and Advocacy, now in its Sixth Edition, is the acclaimed work of first resort for analysing the complex law and practice surrounding expert witnesses and expert evidence in personal injury, commercial, criminal and family law litigation. It has been cited for over two decades by superior courts in every jurisdiction in Australia and New Zealand, as well as in a number of other countries. The sixth edition consolidates Expert Evidence as the leading international work on its subject, with additional treatment of the law in common law jurisdictions.
Expert Evidence analyses the common law and statutory criteria for expert evidence admissibility and provides advocacy guidance in relation to how best expert witnesses can be assisted to provide their opinions to courts and be made accountable for them. It discusses the optimal ways for concurrent evidence (hot-tubbing) and experts' meetings prior to court hearings (expert conclaves) to be managed. It reviews decisions in relation to the disciplinary and civil liability of expert witnesses, and the potential for wasted costs orders to be made against experts, as well as the lawyers who commission them. It analyses the role of assessors, referees and court-appointed experts, as well as the forensic consequences of courts' codes of conduct for experts, including when breaches of such codes may have to adverse consequences. It also reviews trends in appellate case law in relation to trial judges' decisions to admit and decline to admit expert opinions.
Expert Evidence also deals with a range of areas of specialist knowledge where admissibility and reliability issues have been confronted in relation to expert opinions, including in relation to novel medical and scientific evidence, as well as counter-intuitive opinions from mental health professionals. Chapters are devoted to accounting, engineering, statistical, anthropological, survey, and planning evidence, as well as in relation to expert evidence about foreign law.
NEW DEVELOPMENTS
Reflecting the law as at 1 July 2019, the Sixth Edition:
incorporates new material in relation to:

evidence by forensic engineers and architects;
interpretation of admissibility thresholds under both statutory and common law;
appellate decisions on DNA profiling and novel scientific evidence;
expert evidence about foreign law;
ad hoc expert evidence given by police witnesses;
the role of referees and concurrent evidence, consecutive expert evidence and the use of expert conclaves;
empirical material in advocacy chapters; and
costs orders against experts and legal practitioners;

updates international case law in relation to expert evidence; and
reviews options for appellate action to be taken in relation to admissibility determinations concerning expert opinion evidence.
Table of Contents
Full Table of Contents
PART 1 - INTRODUCTION
Chapter 1.0 Introduction
PART 2 - COMMON LAW EVIDENTIARY RULES
Chapter 2.0 Common law exclusionary rules
Chapter 2.05 The expertise rule
Chapter 2.10 The area of expertise rule
Chapter 2.15 The common knowledge rule
Chapter 2.20 The basis rule
Chapter 2.25 The ultimate issue rule
Chapter 2.30 Judicial notice
Chapter 2.35 Discretionary exclusion of expert evidence
PART 3 - STATUTORY EVIDENTIARY RULES
Chapter 3.0 Statutory law in Australia
Chapter 3.05 Statutory law in New Zealand
Chapter 3.10 Statutory law in the United States
Chapter 3.15 Law reform proposals
PART 4 - APPEALS
Chapter 4.0 Appeals in relation to expert evidence
PART 5 - PROCEDURE
Chapter 5.0 Forensic reports
Chapter 5.05 Court rules and ethical obligations
Chapter 5.10 Costs and client legal privilege
Chapter 5.15 Wasted costs orders (new)
Chapter 5.20 Remuneration of experts
PART 6 - EXPERT WITNESSES AND DECISION MAKING
Chapter 6.0 Court-appointed experts
Chapter 6.05 Assessors
Chapter 6.10 Referees
Chapter 6.12 Single joint experts
Chapter 6.15 Conclaves (new)
Chapter 6.20 Concurrent expert evidence
Chapter 6.25 Consecutive expert evidence (new)
PART 7 - EXPERT EVIDENCE IN COURT
Chapter 7.0 Preparation and examination of the expert witness
Chapter 7.05 Cross-examination of the expert witness
Chapter 7.10 Sentencing evidence by the expert witness
PART 8 - LIABILITY OF EXPERTS
Chapter 8.0 Criminal and civil liability of expert witnesses and report writers
Chapter 8.05 Regulatory liability of expert witnesses and report writers
PART 9 - MEDICAL, DENTAL AND NURSING EVIDENCE
Chapter 9.0 Medical evidence
Chapter 9.05 Dental evidence
Chapter 9.10 Nursing evidence
PART 10 - MENTAL HEALTH EVIDENCE
Chapter 10.0 Psychiatrists' and psychologists' evidence
Chapter 10.05 Fitness for interview evidence
Chapter 10.10 Fitness to stand trial evidence
Chapter 10.15 Identification evidence
Chapter 10.20 Memory evidence
Chapter 10.25 Mental state evidence
Chapter 10.30 Syndrome evidence
Chapter 10.35 Profiling evidence
Chapter 10.40 Prediction of risk evidence
Chapter 10.45 Post-traumatic stress disorder evidence
Chapter 10.50 Critical incident stress intervention evidence
PART 11 - SOCIAL SCIENTISTS' EVIDENCE
Chapter 11.0 Survey evidence
Chapter 11.05 Historians' evidence
Chapter 11.10 Anthropologists' evidence
Chapter 11.15 Cultural experts' evidence
Chapter 11.20 Linguists' evidence
PART 12 - SCIENTISTS' EVIDENCE
Chapter 12.0 Scientific evidence
Chapter 12.05 Novel scientific evidence
Chapter 12.10 Fingerprinting, footprint and footwear evidence
Chapter 12.15 Document analysis evidence
Chapter 12.20 DNA evidence
Chapter 12.25 Statistical and probability evidence
PART 13 - POLICE EVIDENCE
Chapter 13.0 Police evidence
Chapter 13.05 Tracker and sniffer dog evidence
PART 14 - ACCIDENT RECONSTRUCTION EVIDENCE
Chapter 14.0 Accident reconstruction evidence
PART 15 - FOREIGN LAW EVIDENCE
Chapter 15.0 Foreign law evidence
PART 16 - FINANCIAL EVIDENCE
Chapter 16.0 Valuation evidence
Chapter 16.05 Financial evidence
PART 17 - CONSTRUCTION EVIDENCE
Chapter 17.0 Engineers' evidence (new)
Chapter 17.05 Architects' evidence (new)
Chapter 17.10 Quantity surveyors' evidence
Chapter 17.15 Planning evidence
PART 18 - INTELLECTUAL PROPERTY EVIDENCE
Chapter 18.0 Patent evidence
*
eBooks and packages including an eBook may not be returned once the software key has been supplied. Your rights as a customer to access and use the ProView™ software and a ProView eBook are subject to acceptance of the ProView content licence agreement.
NB
An email with a registration key and instructions for accessing your eBook will be sent after checkout. For existing ProView users the eBook will appear in your library after checkout.

Forthcoming/pre-order eBooks will be available after the publication date.

The ProView app is not currently available on Kindle. See the latest system requirements