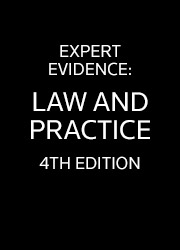 Expert Evidence: Law & Practice 4th edition eBook
eBook - ProView

Date: 23/12/2014

Code: 9780414049765

Sweet & Maxwell, UNITED KINGDOM

Expert Evidence: Law & Practice 4th edition eBook
Description
Expert Evidence: Law and Practice is a comprehensive survey of the law, practice and procedure relating to the admission of expert evidence in courts, tribunals, official enquiries and other proceedings (including arbitration).
It gives detailed guidance to those involved in the pre-trial preparation of expert evidence or the presentation or questioning of it in court.
This new edition incorporates the continuing impact of the new approach towards expert evidence introduced by the Civil Procedure Rules and Criminal Procedure Rules. It also explains the implications of important recent case law.
Covers expert evidence in both civil and criminal proceedings
Sets out general principles and deals with their application in specific contexts
provides guidance for pre-trial preparation of expert evidence, including issues such as bias, privilege and confidentiality
Deals with every aspect of the expert witness in court
Goes through methods of cross-examining experts
Considers methods of proof, dealing with psychiatric evidence, land and building valuation, forensic sciences, actuarial, accounting and market research evidence, and evidence with a mathmatical element
Discusses the rules that apply in specific fields of litigation, such as medical reports in personal injury cases, patents, construction claims, proceedings involving children and drink driving cases
Looks at tribunals not covered by the strict rules of evidence
Quotes in full all important statutory provisions and rules of the court
Table of Contents
Introduction: The principles and development of expert evidence
Pre-trial practice and procedure
Evidence at trial
Methods of proof
Specific tribunals
Fields of litigation
Expert evidence: The future
*
eBooks and packages including an eBook may not be returned once the software key has been supplied. Your rights as a customer to access and use the ProView™ software and a ProView eBook are subject to acceptance of the ProView content licence agreement.
NB
An email with a registration key and instructions for accessing your eBook will be sent after checkout. For existing ProView users the eBook will appear in your library after checkout.

Forthcoming/pre-order eBooks will be available after the publication date.

The ProView app is not currently available on Kindle. See the latest system requirements