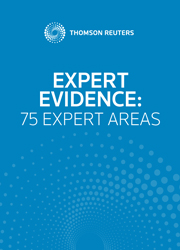 Expert Evidence: 75 Expert Areas (ebook)
eBook - ProView

Date: 01/11/2016

Code: 42043843

Thomson Reuters, AUSTRALIA

Expert Evidence: 75 Expert Areas (ebook)
Description
From the start of any engagement you and your client need expert advice on key evidence issues of the matter and how to resolve them.
Expert Evidence: 75 Expert Areas is comprehensively drafted to fully prepare the everyday litigator for their legal matter, ensuring for example that your pre-trial conferences run smoothly, the questions you put to your experts are the right questions, your time spent in hearings is productive and ultimately that your client feels they are getting the best advice possible.
To preview Expert Evidence: 75 Expert Areas:
1. Click here and,
2. When Proview opens with the cover of Expert Evidence, click on the top icon on the left hand toolbar to see the contents of the preview.
Expert Evidence: 75 Expert Areas provides helpful guidance on expert opinions in:
Accounting, actuarial, digital evidence, document examination, marketing and valuations;
Medical, anesthetics, dental, hypnosis, chiropractic, hearing, intellectual disability, pathology, pharmacology, psychology and psychiatry;
Investigation of remains through pathology, dentistry, entomology, anthropology, osteology;
Forensic areas commonly found in criminal cases such as crime scene, firearms and gunshot residues, fingerprints, drugs and drug labs, alcohol, memory and identification, forensic speaker identification, hairs and fibres, paint, glass, soil, toolmarks, podiatry, DNA, botany, fires, blood spatter, biology, explosions;
Environment issues such as water, air, noise, asbestos, tracing the provenance of gold, pesticides, ecotoxicology, food microbiology; and
Transport and structural failures covering road, rail, air and marine and industrial and workplace.
Plus, with the enhanced functionality of the ProView eReader Platform, you can add notes, highlight sections and add bookmarks to find the information you need faster.
*
eBooks and packages including an eBook may not be returned once the software key has been supplied. Your rights as a customer to access and use the ProView™ software and a ProView eBook are subject to acceptance of the ProView content licence agreement.
NB
An email with a registration key and instructions for accessing your eBook will be sent after checkout. For existing ProView users the eBook will appear in your library after checkout.

Forthcoming/pre-order eBooks will be available after the publication date.

The ProView app is not currently available on Kindle. See the latest system requirements