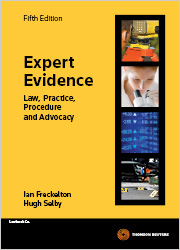 Expert Evidence 5e ebook
eBook - ProView

Date: 12/07/2013

Code: 9780455231990

Thomson Reuters, AUSTRALIA
Description
Expert Evidence: Law, Practice, Procedure and Advocacy is the acclaimed work of first resort for analysing the complex law and practice surrounding expert witnesses and expert evidence in personal injury, commercial, criminal and family law litigation. It has been cited by superior courts in every jurisdiction in Australia and New Zealand.
As well as setting out and interpreting the complex common law and statutory criteria for expert evidence admissibility, the book also provides guidance in relation to how most effectively expert witnesses can provide their opinions and how they can be made accountable for their views. It scrutinises disciplinary and civil law repercussions for substandard expert evidence and analyses the forensic application of codes of ethics for experts that have been promulgated in all jurisdictions.
The 5th edition is revised to accommodate the increasing application of the uniform evidence legislation and also deals with a wide range of new areas of scientific, medical, financial and social science evidence that are being adduced in Australia's courts. Expert Evidence analyses the increasing use of single experts and concurrent evidence by experts (hot-tubbing). It incorporates new analysis of the law concerning expert witness immunity, civil and disciplinary actions against experts and evidence in relation to psychiatric injuries.
Features
New material in relation to statistical, engineering, forensic science, mental health expert and accounting evidence.
Revises advocacy material in relation to the examination-in-chief and cross-examination of expert witnesses.
Discusses concurrent evidence, an area of procedure which Australia has pioneered
Takes into account the impact of the new DSM-5 (Diagnostic and Statistical Manual of Mental Disorders-5 by the American Psychiatric Association) on evidence relating to psychiatric and psychological disorders.
Interprets common law and statutory criteria for expert evidence admissibility.
Highlights civil and disciplinary repercussions for substandard expert evidence.
Material revised to work within the increasing application of the uniform evidence regime and evidence law reform with regard to reliability and admissibility, accounting and patent law evidence.
*
eBooks and packages including an eBook may not be returned once the software key has been supplied. Your rights as a customer to access and use the ProView™ software and a ProView eBook are subject to acceptance of the ProView content licence agreement.
NB
An email with a registration key and instructions for accessing your eBook will be sent after checkout. For existing ProView users the eBook will appear in your library after checkout.

Forthcoming/pre-order eBooks will be available after the publication date.

The ProView app is not currently available on Kindle. See the latest system requirements