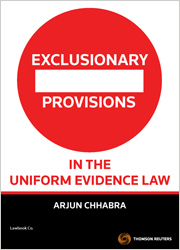 Exclusionary Provisions in the Uniform Evidence Law
Book+eBook

Date: 15/07/2015

Code: 41782947

Thomson Reuters, AUSTRALIA

Exclusionary Provisions in the Uniform Evidence Law
Description
"Chhabra has crafted a very practical book to help practitioners navigate through the ... exclusionary provisions ... The book provide(s) guidance to the interpretations and clarifications that have been made. This is not a book to be left on the shelf. This is a book to be kept on the desk and carried to court, to be referred to and highlighted and digested." - The Hon RO Blanch AM QC, former Chief Judge of the District Court of NSW, in the Foreword to the book.
"The importance of this text cannot be overstated – especially for practitioners working with witnesses and defendants who do not have English as a first language…It should be a daily addition to (every) court bag and be on the bar table in any contested hearing." – Isabella Maxwell-Williams, Summary Prosecutor – DPP, in Balance, January 2016, NT Law Society
Exclusionary Provisions in the Uniform Evidence Law by Arjun Chhabra is a breakthrough work focusing on a core aspect of the uniform evidence legislation.
By thoroughly examining the major exclusionary provisions this work is relevant to each evidentiary proceeding in Federal, ACT, NSW, NT, Tasmanian and Victorian courts.
The evidence that is admitted during a proceeding will ultimately determine its outcome. The ability to exclude evidence, and the opposing party's ability to resist exclusion, is therefore critical.
The provisions considered are:
section 84 Exclusion of admissions influenced by violence and certain other conduct;
section 85 Criminal proceedings: reliability of admissions by

defendants;

section 90 Discretion to exclude admissions;
section 135 General discretion to exclude evidence;
section 136 General discretion to limit use of evidence;
section 137 Exclusion of prejudicial evidence in criminal proceedings;
section 138 Exclusion of improperly or illegally obtained evidence; and
section 139 Cautioning of persons.
Chhabra dedicates a chapter to each exclusionary provision, analysing the language and leading cases in detail. Each chapter concludes with a helpful summary of facts and legal principles from instructive decisions.
These provisions are routinely invoked by lawyers in both civil and criminal matters. When considering an application to exclude evidence under the provisions considered, the courts must make an evaluative judgment – providing fertile ground for legal argument.
Exclusionary Provisions in the Uniform Evidence Law is a clear and engaging text which equips the reader with a proficiency not obtainable from other evidence texts. It is sure to become the authority on this critical element of the Uniform Evidence Law.
AUTHOR
Arjun Chhabra is a criminal defence Solicitor-Advocate at the Sydney office of the Aboriginal Legal Service (NSW/ACT) Limited, having previously held positions in their Central Western NSW and South Coast offices. He has also worked in private practice focusing on complex crime. Prior to becoming a criminal lawyer, Chhabra practiced as a corporate and taxation solicitor in Australia, Asia-Pacific and the Middle East, as well as an investment banker in East Africa. He was formerly Associate to the Honourable Justice R.O. Blanch of the Supreme Court and Chief Judge of the District Court of New South Wales.
Chhabra has published numerous papers on the criminal law and has presented at several legal conferences. He has also lectured at Charles Sturt University as part of the Bachelor of Justice Studies (Policing) degree, focusing on police powers and criminal sentencing.
Chhabra will join the NSW Bar in September 2015, reading at Maurice Byers Chambers.
*
eBooks and packages including an eBook may not be returned once the software key has been supplied. Your rights as a customer to access and use the ProView™ software and a ProView eBook are subject to acceptance of the ProView content licence agreement.
NB
An email with a registration key and instructions for accessing your eBook will be sent after checkout. For existing ProView users the eBook will appear in your library after checkout.

Forthcoming/pre-order eBooks will be available after the publication date.

The ProView app is not currently available on Kindle. See the latest system requirements