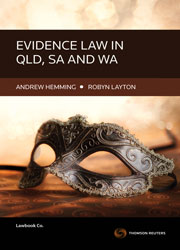 Evidence Law in Qld, SA and WA
eBook - ProView

Date: 12/12/2016

Code: 9780455237879

Lawbook Co., AUSTRALIA

Evidence Law in Qld, SA and WA
Description
A textbook that covers the law of evidence in the three common law states of Qld, SA and WA, as well as comparative material with the Uniform Evidence Acts. Each chapter will cover the two main evidence regimes (common law and UEA) bringing out any significant differences between Qld, SA and WA.
Table of Contents
Chapter 1 Introduction and Evidence Basics
Chapter 2 Competence, Compellability and Special Classes of Wintesses
Chapter 3 Proof, Presumptions Prima Facie Case
Chapter 4 Privilege
Chapter 5 Examination of Witnesses
Chapter 6 Character Evidence and the Accused as Witness
Chapter 7 Similar Fact or Propensity Evidence
Chapter 8 OPinion, Identification and Corroboration Evidence
Chapter 9 Documentary Evidence and Real Evidence
Chapter 10 Rule Against Hearsay and Res Gestae
Chapter 11 Confessions and Admissions
Chapter 12 Unlawful and Improperly Obtained Evidence
*
eBooks and packages including an eBook may not be returned once the software key has been supplied. Your rights as a customer to access and use the ProView™ software and a ProView eBook are subject to acceptance of the ProView content licence agreement.
NB
An email with a registration key and instructions for accessing your eBook will be sent after checkout. For existing ProView users the eBook will appear in your library after checkout.

Forthcoming/pre-order eBooks will be available after the publication date.

The ProView app is not currently available on Kindle. See the latest system requirements