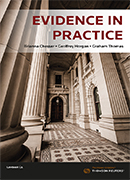 Evidence in Practice
Book

$30.80* $77.00 RRP Save: $46.20 (60%)

Date: 04/12/2018

Code: 9780455241524

Lawbook Co., AUSTRALIA

Evidence in Practice

Sale Price:

$30.80

Saving: $46.20
Description
Evidence in Practice is designed to assist the reader to critically examine the development, role and use of the laws of evidence. It will also assist the reader to prepare for a moot and gives practical advice on how a real trial might be prepared for and conducted. Concentrating on the areas of evidence law that the reader should be familiar with, Evidence in Practice then offers advice as to how that knowledge might be employed in the setting of a moot and trial.
The Honourable Justice Peter Kidd, Chief Judge of the County Court of Victoria -
"The journey into the law of evidence must start somewhere. This book is a useful starting point. It is succinct and clearly written, intended for those who are inexperienced with the law of evidence, rather than a professional text for the initiated. In that sense it is a primer, preparing the way for, hopefully, the subsequent mastering of the complexities of this important area of law...
I highly recommend this book for what it is, a very readable and concise introduction to the law of evidence under the Uniform Evidence Acts."
Table of Contents
| | |
| --- | --- |
| Introduction | |
| Part 1 | Evidence in Context |
| Chapter 1 | Introduction to the Uniform Evidence Law |
| Chapter 2 | Admissibility of Evidence |
| Chapter 3 | Adducing Evidence |
| Chapter 4 | Witness Competence and Compellability |
| Chapter 5 | Hearsay and Opinion |
| Chapter 6 | Credibility and Character |
| Chapter 7 | Tendency and coincidence |
| Chapter 8 | Judicial discretions and warnings |
| Part 2 | Evidence in Practice - Key Legal Skills |
| Chapter 9 | The Moot |
| Chapter 10 | The Trial |
| Chapter 11 | The Summary Hearing |
| Chapter 12 | Tunc pro nunc: Geoffrey Horgan QC |