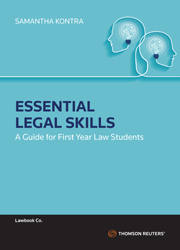 Essential Legal Skills: A Guide for First Year Law Students - eBook
eBook - ProView

Forthcoming Release, 31/12/2021

Code: 9780455244617

Lawbook Co., AUSTRALIA

Essential Legal Skills: A Guide for First Year Law Students - eBook
Description
Essential Legal Skills: A Guide for First Year Law Students is designed with first year law students in mind. It provides a preliminary introduction to many of the skills that first year law students need to master, structured through the lens of the commonly used IRAC problem-solving methodology (Issue-Rule-Application/Analysis-Conclusion). This book takes a practical approach to legal problem-solving, and guides students through each step of the problem-solving process. As such, each chapter is designed to explain foundational legal skills, and to help students to develop and master these skills at the beginning of their legal education.
While this book introduces students to academic skills that are specifically relevant to law, it also introduces two practical legal skills: client interview and negotiation. These skills are particularly beneficial for first year law students and provide an innovative way of analysing legal questions and material facts (client interviewing), while evaluating both perspectives of a legal dispute (negotiation). Early development of these skills will help law students to engage with legal materials and hone their legal analysis, which is deepened through the use of reflection as a tool to improve relevant skills.
Chapter 1 Introduces students to studying at university and studying law, with emphasis on academic integrity and legal ethics.
Chapter 2 Teaches students how to read and analyse secondary sources.
Chapter 3 Teaches students how to read and analyse primary sources.
Chapter 4 Explains the process of legal research and teaches students how to find relevant sources.
Chapter 5 Introduces the process of legal analysis, with emphasis on the most difficult components on this, and tips to improve analysis.
Chapter 6 Introduces students to client-centred skills including client interview and negotiation.
Chapter 7 Teaches students how to reflect on their skills and experiences, to improve their practice.
Samantha Kontra is an Associate Lecturer in Law at Flinders University. Her teaching areas focus on teaching legal and academic skills to first year law students, and she has a keen interest in orientation and transition. She has taught first year law since 2012. She also teaches tort law and is particularly interested in negligence cases related to psychological harm, which draws together her previous studies in both law and behavioural science (psychology). Samantha's research interests focus on legal negotiation, with a particular emphasis on preparation for legal negotiation, which is explored in her PhD thesis.
*
eBooks and packages including an eBook may not be returned once the software key has been supplied. Your rights as a customer to access and use the ProView™ software and a ProView eBook are subject to acceptance of the ProView content licence agreement.
NB
An email with a registration key and instructions for accessing your eBook will be sent after checkout. For existing ProView users the eBook will appear in your library after checkout.

Forthcoming/pre-order eBooks will be available after the publication date.

The ProView app is not currently available on Kindle. See the latest system requirements
Pre-order: This item will be available on: 31 Dec 2021