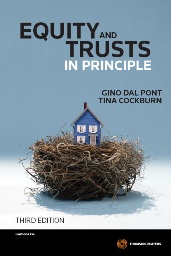 Equity & Trusts: In Principle 3rd bk+ebk
Book+eBook

Date: 05/12/2013

Code: 41549082

Thomson Reuters, AUSTRALIA

Equity & Trusts: In Principle 3rd bk+ebk
Description
Equity and Trusts: In Principle, 3rd Edition is updated and revised throughout to provide students with a succinct and lucid approach to what can be a complex area of law. Addressing the principles of equity and trusts, students are provided with a clear analysis on this area of the law.
The third edition has been updated to reflect the most recent statutory developments in this area of law, including:
Australian Consumer Law
Personal Property Securities Act 2009 (Cth)
Charities Act 2013 (Cth)
Australian Charities and Not-for-profits Commission Act 2012 (Cth)
Case law has also been updated throughout the text. Significant additions include:
Grimaldi v Chameleon Mining NL (No 2) (2012) 200 FCR 296 (Chapters 4, 36)
Giller v Procopets (2008) 24 VR 1 (Chapters 6, 32)
Kakavas v Crown Melbourne Ltd (2013) 87 ALJR 708 (Chapter 9)
Andrews v Australia and New Zealand Banking Group Ltd (2012) 86 ALJR 1002 (Chapter 13)
Friend v Brooker (2009) 239 CLR 129 (Chapter 14)
With its principles-based approach, Equity and Trusts: In Principle, 3rd Edition remains an essential text for students studying equity and trusts.
Table of Contents
Chapter 1 Nature of equity
Part I — Equitable Interests in Property
Chapter 2 Equitable interests and priorities
Chapter 3 Equitable assignments
Part II — Relationships of Trust
Chapter 4 Fiduciary relations
Chapter 5 Government and the public trust
Chapter 6 Confidential information
Chapter 7 Undue influence
Part III — Unconscionable Conduct
Chapter 8 Fraud and mistake
Chapter 9 Unconscionable dealing
Chapter 10 Estoppel
Chapter 11 Relief against forfeiture
Part IV — Unfair Outcomes
Chapter 12 Part performance
Chapter 13 Penalty clauses
Chapter 14 Subrogation, contribution and marshalling
Chapter 15 Deceased estates
Part V — Trusts
Chapter 16 Nature of a trust
Chapter 17 The requisite certainties
Chapter 18 Formalities and complete constitution
Chapter 19 Legality of trusts
Chapter 20 Trustees
Chapter 21 Duties, powers and rights of trustees
Chapter 22 Breach of trust
Chapter 23 Variation, resettlement and termination of trusts
Chapter 24 Charitable trusts
Chapter 25 Resulting trusts
Chapter 26 Trusts for commercial purposes
Chapter 27 Trusts for investment
(by Dr L M Butler, Faculty of Law, University of Tasmania)
Part VI — Equitable Defences
Chapter 28 Laches, set-off and unclean hands
Part VII — Equitable Remedies
Chapter 29 Injunctions
Chapter 30 Mareva and Anton Piller orders
Chapter 31 Specific performance
Chapter 32 Compensation, damages and account of profits
Chapter 33 Rescission
Chapter 34 Receivership
Chapter 35 Declarations, rectification, specific restituion and delivery up
Chapter 36 Constructive trusts
Chapter 37 Tracing
*
eBooks and packages including an eBook may not be returned once the software key has been supplied. Your rights as a customer to access and use the ProView™ software and a ProView eBook are subject to acceptance of the ProView content licence agreement.
NB
An email with a registration key and instructions for accessing your eBook will be sent after checkout. For existing ProView users the eBook will appear in your library after checkout.

Forthcoming/pre-order eBooks will be available after the publication date.

The ProView app is not currently available on Kindle. See the latest system requirements