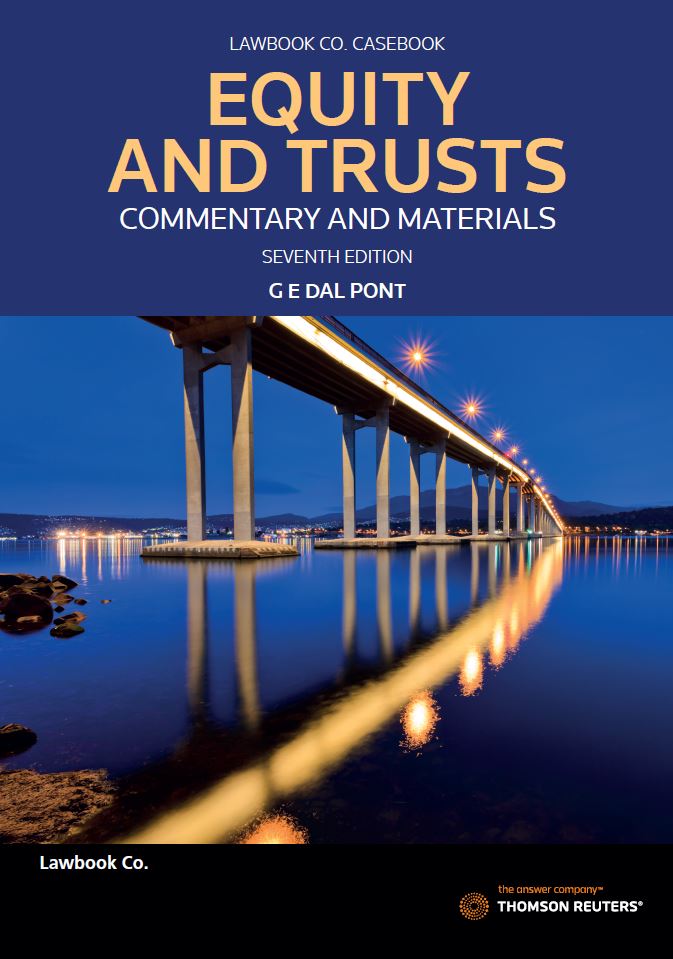 Equity & Trusts: Commentary & Materials 7th edition
Book

Date: 06/11/2018

Code: 9780455241746

Lawbook Co., AUSTRALIA

Equity & Trusts: Commentary & Materials 7th edition
Description
The seventh edition of Equity and Trusts: Commentary and Materials builds on the strengths of the previous editions, and maintains its focus on prefacing case and statutory extracts by statements of principle to guide the student, and following extracts by comments and questions that both test the reader's understanding and develop aspects of extracted material. Every effort has been made to make the work as accessible to the student as possible – in the main by ensuring that most extracts are not unduly lengthy – while at the same time focusing, chiefly via questions and commentary, on the learning outcomes essential to the study of equity and trusts.
This new edition includes extracts from important judgments delivered since late 2014, including Thorne v Kennedy on undue influence, Wilaci Pty Ltd v Torchlight Fund No 1 LP (in receivership) on penalties and Jones v Matrix Partners Pty Ltd on the insolvency of trustees. Other significant decisions, including Crown Melbourne Ltd v Cosmopolitan Hotel (Vic) Pty Ltd on estoppel, Paciocco v Australia and New Zealand Banking Group Ltd and Cavendish Square Holdings BV v Makdessi on penalties, are the subject of briefer extracts and commentary in the notes.
This new edition, to this end, retains its progressive focus, and challenges readers to evaluate Australian law in its modern context.

The casebook works as an ideal companion to the seventh edition of Equity and Trusts in Australia, which adopts the same chapter order and structure. Being written by the same author, the text and casebook present a consistent style and approach, making them ideal for teaching on equity courses, trusts courses or combined equity and trusts courses.
Table of Contents
Part I Equitable Interests
Chapter 1 Nature and Types of Equitable Interests
Chapter 2 Equitable Priorities
Chapter 3 Assignments in Equity
Part II Relationships of Trust
Chapter 4 Fiduciary Relations
Chapter 5 Government and the Public Trust
Chapter 6 Confidential Information
Part III Unconscionable Conduct
Chapter 7 Undue Influence
Chapter 8 Fraud and Mistake
Chapter 9 Unconscionable Dealing
Chapter 10 Estoppel
Chapter 11 Relief Against Forfeiture
Part IV Unfair Outcomes
Chapter 12 Part Performance
Chapter 13 Penalty Clauses
Chapter 14 Subrogation, Contribution and Marshalling
Chapter 15 Deceased Estates
Part V Trusts
Chapter 16 Nature of a Trust
Chapter 17 The Requisite Certainties
Chapter 18 Formalities and Complete Constitution
Chapter 19 Legality of Trusts
Chapter 20 Beneficiaries
Chapter 21 Trustees
Chapter 22 Duties of Trustees
Chapter 23 Powers and Rights of Trustees
Chapter 24 Breach of Trust
Chapter 25 Variation, Resettlement and Termination of Trusts
Chapter 26 Resulting Trusts
Chapter 27 Trusts for Commercial Purposes
Chapter 28 Trusts for Investment
Chapter 29 Charitable Trusts
Part VI Equitable Defences
Chapter 30 Equitable Defences
Part VII Equitable Remedies
Chapter 31 Injunctions
Chapter 32 Mareva and Anton Piller Orders
Chapter 33 Specific Performance
Chapter 34 Compensation, Damages and Account of Profits
Chapter 35 Rescission
Chapter 36 Receivership
Chapter 37 Declarations, Rectification and Specific Restitution
Chapter 38 Constructive Trusts
Chapter 39 Tracing
Index