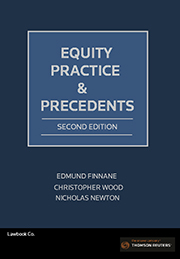 Equity Practice and Precedents 2nd Edition - Book & eBook
Book+eBook

Date: 21/01/2019

Code: 41720996

Thomson Reuters, AUSTRALIA

Equity Practice and Precedents 2nd Edition - Book & eBook
Description
Equity Practice and Precedents Second Edition is a guide to practice in equity in New South Wales. It outlines the essential principles of a broad range of equitable and statutory remedies associated with the equity jurisdiction.
This work provides many essential precedents for these remedies, both in the book and available as online downloads.
Part 1 of the book provides a thorough analysis of the jurisdiction of various State and Federal courts and tribunals to grant the remedies dealt with in the book.
In Part 2, each remedy or area of statutory relief is discussed in detail, with a practical outline of the principles and practice, and a comprehensive set of precedents.

In this updated and revised Second Edition a wide range of areas of law and practice are covered, including:
Equitable remedies such as injunctions, specific performance and rectification.
Various aspects of insolvency and corporate law (including winding up, administration and shareholders' remedies).
Property law (including the Conveyancing Act and Real Property Act), family provision applications, Property (Relationships) Act and related equitable remedies.
Statutory unconscionability provisions such as ss 21 and 22 of the Australian Consumer Law
Importantly, five entirely new chapters have been added. These new chapters address:
Declaratory relief.
Proprietary claims in equity.
Mortgages and charges affecting land.
Probate litigation.
Applications in a winding up.
Equity Practice and Precedents Second Edition has come to be regarded as an indispensable tool, consistently sought out by barristers and solicitors practicing in equity.
Table of Contents
PART 1 - COURT JURISDICITION
1 NSW Supreme Court
2 Equitable Jurisdiction of the District Court
3 Other courts and tribunals
4 Federal Court
5 Federal Circuit Court
PART 2 - PRECEDENTS AND COMMENTARY
6 Injunctions
7 Freezing Orders and Search Orders
8 Declarations
9 Court-appointed receivers
10 Specific Performance
11 Rectification
12 Rescission
13 Relief against forfeiture
14 Partnership Proceedings
15 Proprietary claims
16 Mortgages and charges affecting land
17 Remedy of Account
18 Court Appointed Referees
19 Contracts Review Act and statutory remedies for unconscionable conduct
20 Real Property Act
21 Conveyancing Act
22 Property Relationships Act
23 Trustee Act
24 Probate
25 Family Provision Applications
26 Administration & Deeds of Company Arrangement
27 Provisional liquidators
28 Setting aside a statutory demand
29 Winding up a company
30 Applications in a winding up
31 Shareholders' remedies
*
eBooks and packages including an eBook may not be returned once the software key has been supplied. Your rights as a customer to access and use the ProViewâ"¢ software and a ProView eBook are subject to acceptance of the ProView content licence agreement.
NB
An email with a registration key and instructions for accessing your eBook will be sent after checkout. For existing ProView users the eBook will appear in your library after checkout.

Forthcoming/pre-order eBooks will be available after the publication date.

The ProView app is not currently available on Kindle. See the latest system requirements