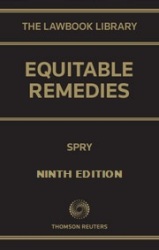 Equitable Remedies, 9th Edition (Hardcover)
Book

Date: 21/11/2013

Code: 9780455232874

Thomson Reuters, AUSTRALIA

Equitable Remedies, 9th Edition (Hardcover)
Description
Equitable Remedies is a work of the highest international standing and the common law authority on remedies in equity.
Famously described by Sir Owen Dixon as "the best legal book to have come out of Australia", it has been cited by judges in the House of Lords, the High Court of Australia, the Supreme Court of Canada and the High Court of New Zealand, and continues to be referred to in courts of record across the common law world.
Dr Ian Spry's expert analysis of the law maintains the book's reputation as a current and reliable source of information, with the 9th edition containing up-to-date case law from Australia and the United Kingdom.
This edition is also a celebration of the contribution of Dr Ian Spry to legal scholarship and Australian legal publishing. After more than 40 years of authorship on this landmark title, Dr Ian Spry QC has chosen to make this ninth issue of the book his final edition.
Equitable Remedies 9th Edition is a particularly important reference book for commercial and property transactions, as well as more general equity doctrines. For discussion of the law relating to injunctions, specific performance, rectification and equitable damages, Equitable Remedies 9th Edition is the essential resource on the subject.
Simply, it is the most thorough and in-depth treatise on the subject.
Table of Contents
Chapter 1 - The technique of equity
Chapter 2 - Territorial limitations of equitable jurisdiction
Chapter 3 - The specific performance of contracts
Chapter 4 - Injunctions
Chapter 5 - The enforcement of contracts by injunction
Chapter 6 - Rectification
Chapter 7 - The award of damages in equity
Appendix A - The enforcement of undertakings as to damages
Appendix B - Property rights enforced by injunction
Appendix C - Orders to carry on businesses: Co-operative Insurance Society Ltd. v Argyll Stores (Holdings) Ltd.
Appendix D - Patrick Stevedores Operations No. 2 Pty. Ltd. v Maritime Union of Australia