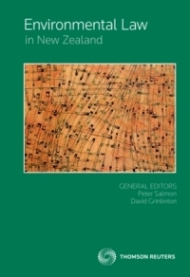 Enviromental Law in New Zealand Book + eBook
Book+eBook

Date: 30/06/2015

Code: 41793043

Brookers, NEW ZEALAND

Enviromental Law in New Zealand Book + eBook
Description
Environmental Law in New Zealand is a significant new and in-depth commentary on the range of distinct but often interconnected areas of law that comprise the field of Environmental Law.
Editors Peter Salmon and David Grinlinton, lead a team of New Zealand's most highly regarded academics and practitioners, all of whom provide expert commentary on different aspects of this diverse area of law and policy. These authors have collectively created a work of high quality scholarship that is both groundbreaking and which makes a substantial contribution to the jurisprudence on this important and multifaceted area of the law.
The depth and breadth and quality of the contributions made to the book by its authors ensures that Environmental Law in New Zealand provides an invaluable source of information for resource management practitioners, academics and students in a variety of disciplines, and those in government, local government, or the private sector who deal with environmental law issues and whose work requires them to meet the challenges set by the preservation and sustainable management of New Zealand's unique environment.
Table of Contents
Chapter 1 - Defining the Nature and Boundaries of Environmental Law)
Chapter 2 - The context of Environmental Law
Chapter 3 - Sustainability and the Law: The history, current state and future prospects of sustainability in law and policy
Chapter 4 - Sustainability in New Zealand Environmental Law and Policy
Chapter 5 - The Role of the Common Law
Chapter 6 - The role of Administrative Law
Chapter 7 - The Relevance of International Environmental Law for Domestic Law
Chapter 8 - Treaty of Waitangi and Maori issues in Environmental Law
Chapter 9 - Institutional and Governance Structures of Environmental Law
Chapter 10 - The Regulatory and Instrumental Structure of Environmental Law
Chapter 11 - The Resource Management Act 1991: Purpose, Principles, Policies and Plans
Chapter 12 - Land Use
Chapter 13 - Water Management
Chapter 14 - Protection of the Coastal and Marine Environment
Chapter 15 - Global Atmospheric Pollution: Climate Change and Ozone
Chapter 16 - Air Pollution in New Zealand
Chapter 17 - The Protection and Conservation of Ecosystems and Species
Chapter 18 - Heritage protection
Chapter 19 - Compliance and Enforcement
*
eBooks and packages including an eBook may not be returned once the software key has been supplied. Your rights as a customer to access and use the ProView™ software and a ProView eBook are subject to acceptance of the ProView content licence agreement.
NB
An email with a registration key and instructions for accessing your eBook will be sent after checkout. For existing ProView users the eBook will appear in your library after checkout.

Forthcoming/pre-order eBooks will be available after the publication date.

The ProView app is not currently available on Kindle. See the latest system requirements