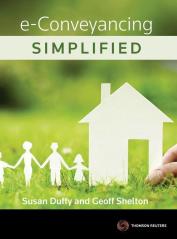 e-Conveyancing Simplified
Book

Date: 29/10/2014

Code: 9780455234670

Thomson Reuters, AUSTRALIA

e-Conveyancing Simplified
Description
The introduction of a national electronic conveyancing systems is a significant reform for property lawyers, conveyancers and students to integrate into their everyday practice.
Written by practising solicitors, e-Conveyancing Simplified addresses the context and the legal framework of the new system, including the Electronic Conveyancing National Law and Model Participation Rules, as well as digital signatures, certificate of title, fraud and risk management. A glossary, index and chapter endnotes offer useful assistance to practitioners familiarising themselves with the new rules, processes, platforms and institutions that comprise e-conveyancing.
This is an affordable resource you shouldn't think twice about adding to your working library, whether in print or e-book format.
Marcus Price, CEO of PEXA Ltd, the organisation behind the platform on which e-conveyancing is to occur, reflects on the change and PEXA's role in this way:
PEXA heralds a new dawn in the exchange of property in this country with the introduction of online lodgement and financial settlement; a world first achievement. A national e-Conveyancing system of this nature has been a long time coming and the success of this initiative is testament to the incredible support PEXA received from the Banks, Land Registries, Reserve Bank of Australia, State Revenue Offices, Property Lawyers, Conveyancers and their peak bodies. PEXA provides tangible time and cost efficiencies to the entire conveyancing industry but it also delivers something more; greater certainty and security to the Australian public.
In this context, e-Conveyancing Simplified brings together what property professionals around Australia need to know about the national e-conveyancing system which will potentially be a part of their regular practice by 2015. This accessible text will help you prepare for the changes that lie ahead.