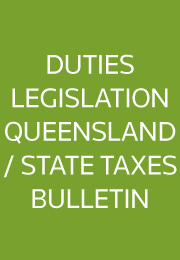 Duties Legislation Queensland
Looseleaf

Date: 23/08/2012

Code: 30130613

Thomson Reuters, AUSTRALIA

Enquiry Sent

A member of our support team will be in touch with you within 1 business day.

Sales Enquiry Form

Duties Legislation Queensland

For questions about how to use this product or to get help with your account please visit the Help Centre or Contact Support directly.
Description
Duties Legislation Queensland reproduces the Duties Act 2001 and the Taxation Administration Act 2001 and Regulations as well as the forms, practice directions and revenue rulings of the Office of State Revenue.

Dr Jeff Mann, a tax expert, guides practitioners through the new conceptual framework with practice pointers to find solutions to tax minimisation.

Updates four times per year (approx).
State Taxes Bulletin comes as part of your subscription, updated six times per year (approx).

*
Price is for an annual subscription and includes all updates issued during this period.