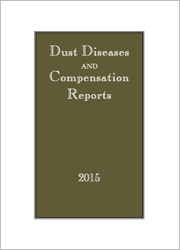 Dust Diseases & Compensation Reports
Online

Date: 26/07/2007

Code: 41167056

Lawbook Co., AUSTRALIA

Enquiry Sent

A member of our support team will be in touch with you within 1 business day.

Sales Enquiry Form

Dust Diseases & Compensation Reports

For questions about how to use this product or to get help with your account please visit the Help Centre or Contact Support directly.
Description
This specialist series of law reports publishes selected cases from the NSW Dust Diseases Tribunal (DDT) and related appeal judgments, together with headnotes. The DDT deals with claims in tort for negligence relating to death or personal injury resulting from specified dust diseases and other dust-related conditions.

The Reports also address the so-called "residual jurisdiction" of the former NSW Compensation Court, including matters relating to police officers hurt on duty and superannuation benefits to police officers.

Formerly published by the NSW Attorney General's Department, the Reports are since 2007 produced by Thomson, with guidance and input from the Department and the Tribunal.