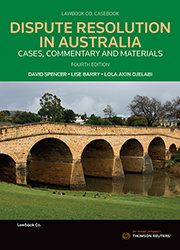 Dispute Resolution in Australia: Cases Commentary and Materials 4th edition
Book

Date: 13/12/2018

Code: 9780455241470

Lawbook Co., AUSTRALIA

Dispute Resolution in Australia: Cases Commentary and Materials 4th edition
Description
This fourth edition of Dispute Resolution in Australia: Cases, Commentary and Materials highlights the embedding of dispute resolution in business and the administration of justice. From neighbourhood disputes through to commercial and corporate dispute management and the judicial system, dispute resolution plays a critical role in resolving differences between people, organisations and even states. The rise in conflict coaching and restorative justice evidences the breadth of dispute resolution and its ability to morph into hybrid processes that serve our society.
This new edition brings the law up-to-date and features:
A revised chapter of the impact of culture on dispute resolution and new material dealing with online dispute resolution
More recent material on transformative and narrative mediation and the increased incorporation of restorative justice processes and victim offender mediation into criminal law procedures
Recent changes to the Family Law Act 1975 (Cth) that place a greater emphasis on the best interests of the child and child informed practice and amendments to the Fair Work Act 2009 (Cth) that provide the Fair Work Commission with powers to deal with workplace bullying and harassment
New material to enhance the discussion on the complexity of ethics and standards in dispute resolution
Expert commentary on future challenges for dispute resolution
Dispute Resolution in Australia: Cases, Commentary and Materials, fourth edition, is an invaluable resource for both students and practitioners, providing practical guidance and analysis in this dynamic area of the law.