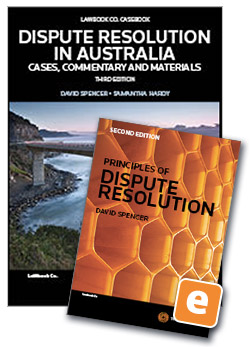 Dispute Resolution in Australia: Cases, Commentary and Materials 3rd edition Book + Principles of Dispute Resolution 2nd edition eBook (Value Bundle)
Book+eBook

Date: 16/06/2014

Code: 42544988

Lawbook Co., AUSTRALIA

Dispute Resolution in Australia: Cases, Commentary and Materials 3rd edition Book + Principles of Dispute Resolution 2nd edition eBook (Value Bundle)
Description
This Value Pack bundle contains the print book version of Dispute Resolution in Australia: Cases, Commentary and Materials 3rd edition and the eBook version of Principles of Dispute Reslution 2nd edition eBook.
Dispute Resolution in Australia: Cases, Commentary and Materials
This third edition of Dispute Resolution in Australia: Cases, Commentary and Materials highlights the consolidation of the process of dispute management and resolution, particularly in the government sector. We are now seeing the full impact of government changes to the handling of civil disputation, with the establishment and fusing of specialist tribunals and commissions. The result of the creation of these extra-judicial bodies has been a reduction in some jurisdictions of matters proceeding to trial. The interesting side-effect of this development is the rise of dispute resolution processes within these specialist tribunals and commissions that seek resolution of disputes in order to avoid hearings.
This new edition brings the law up-to-date and features:
A new chapter on conflict coaching
A re-written chapter on the key elements of arbitral procedures and the common law surrounding arbitral practice featuring the new Uniform Commercial Arbitration Acts
A new chapter on dispute resolution and the criminal law system
A new chapter on dispute resolution and industrial relations.
Dispute Resolution in Australia: Cases, Commentary and Materials, third edition, is an invaluable resource for both students and practitioners, providing practical guidance and analysis in this dynamic area of the law.
........................
Principles of Dispute Resolution eBook
Principles of Dispute Resolution 2nd edition has been revised to provide up-to-date commentary on the development of the law. In particular, the text focuses on the new and amended legislation in both State and federal jurisdictions, along with the developing case law on dispute resolution.
Topics covered by this work include:
What is dispute resolution?
Negotiation
Mediation
Arbitration
Additional dispute resolution processes such as: conciliation; partnering; dispute review advisers and boards; and adjudication, appraisals and determinations
Jurisdictional hybrids of dispute resolution such as: collaborative law; restorative justice; combined processes; and online dispute resolution
Statutory dispute resolution schemes
Legal issues such as: confidentiality; privilege; immunity; enforceability of settlement agreements; and enforceability of dispute resolution clauses in contracts
Ethics and standards
The future of dispute resolution
Written simply and succinctly, this text is a valuable guide to help students and practitioners alike understand the fundamentals of dispute resolution.
Table of Contents
Contents:
Chapter 1: Introduction
Chapter 2: Understanding Disputes
Chapter 3: Negotiation
Chapter 4: Mediation
Chapter 5: Conflict Coaching
Chapter 6: Other Dispute Resolution Processes
Chapter 7: Arbitration
Chapter 8: Dispute Resolution in Criminal Law
Chapter 9: Dispute Resolution in Family Law
Chapter 10: Dispute Resolution in the Workplace
Chapter 11: Online Dispute Resolution
Chapter 12: The State and Dispute Resolution
Chapter 13: Culture and Dispute Resolution
Chapter 14: Legal Issues
Chapter 15: Ethics, Standards and Dispute Resolution
Chapter 16: The Future of Dispute Resolution
Resource Downloads
Instructor Supplements
Please note: these resources are ONLY for the use of lecturers who have prescribed the relevant text. Please email tlrap.academic@thomson.com to request access.
*
eBooks and packages including an eBook may not be returned once the software key has been supplied. Your rights as a customer to access and use the ProView™ software and a ProView eBook are subject to acceptance of the ProView content licence agreement.
NB
An email with a registration key and instructions for accessing your eBook will be sent after checkout. For existing ProView users the eBook will appear in your library after checkout.

Forthcoming/pre-order eBooks will be available after the publication date.

The ProView app is not currently available on Kindle. See the latest system requirements