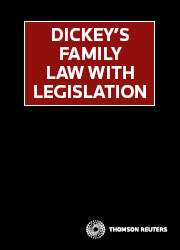 Dickey's Family Law with Legislation
Online

Date: 31/10/2013

Code: 41545218

Lawbook Co., AUSTRALIA

Enquiry Sent

A member of our support team will be in touch with you within 1 business day.

Sales Enquiry Form

Dickey's Family Law with Legislation

For questions about how to use this product or to get help with your account please visit the Help Centre or Contact Support directly.
Description
After nearly thirty years of publishing, Anthony Dickey's distinguished commentary on family law is now available within Dickey's Family Law with Legislation.
The sixth edition of Family Law can be searched and browsed electronically, complemented by and hyperlinked to core Commonwealth and WA legislation which is gradually being enriched with various kinds of guidance.
Since the last edition, Anthony Dickey QC has increased the coverage of issues arising from de facto relationships, reflecting the introduction of Part VIIIAB to the Family Law Act 1975 (Cth) which extended the jurisdiction of that Act to financial and property matters of de facto couples. He also canvasses the introduction of family violence provisions as part of consideration of the "best interests" of the child under the legislation; process changes in the administrative assessment of child support; and the re-naming of the Federal Circuit Court of Australia.
While Dickey's text is a statement of the law as at 1 September 2013, the legislation in Dickey's Family Law with Legislation is maintained as law in force. Key section annotations to the Family Law Act 1975 (Cth) have been written by practitioner Anna Parker and similar commentary is being prepared for WA statutes. Editorial notes, on cases, for instance, offer users a deeper research experience. The domestic violence orders legislation from each of the states is also included, with key section annotations for the WA jurisdiction.
Thomson Reuters offers a suite of family law titles for the benefit of practitioners. In addition to Dickey's Family Law with Legislation, titles include Family Law Precedents – NSW Law Society; FirstPoint, Commonwealth Law Reports, Federal Law Reports and the Unreported Judgments collection for case law; as well as Family Law Review and the 'Family Law' title in The Laws of Australia.
Table of Contents
Full text of Family Law 6e by Anthony Dickey QC plus
Legislation including:
Commonwealth
Child Support (Assessment) Act 1989
Child Support (Assessment) Regulations 1989
Child Support (Registration and Collection) Act 1998
Child Support (Registration and Collection) Regulations 1998
Family Law Act 1975 - with case notes
Family Law Regulations 1984
Family Law Rules 2004
Family Law (Bilateral Arrangements Intercountry) Adoption Regulations 1998
Family Law (Child Abduction Convention) Regulations 1986
Family Law (Child Protection Convention) Regulations 2003
Family Law (Hague Convention or Intercountry Adoption) Regulations 1998
Family Law (Judges) Regulations
Family Law (Family Dispute Resolution Practitioners) Regulations 2008
Family Law (Fees) Regulation 2012
Family Law (Superannuation) Regulations 2001
Federal Circuit Court of Australia Act 1999;
Federal Circuit Rules 2001
Marriage Act 1961
Marriage Regulations 1963
Western Australia
Family Court Act 1997 - with case notes
Family Court (Orders of Registrars) Act 1997
Family Court Regulations 1998
Family Court Rules 1998
Plus state legislation relating to domestic violence orders:
Crimes (Domestic and Personal Violence) Act 2007 (NSW)
Domestic Violence and Protection Orders Act 2008 (ACT)
Domestic and Family Violence Act 2007 (NT)
Domestic and Family Violence Protection Act 2012 (Qld)
Family Violence Act 2004 (Tas)
Family Violence Protection Act 2008 (Vic)
Intervention Orders (Prevention of Abuse) Act 2009 SA
Restraining Orders Act 1997 (WA) - with key section annotations