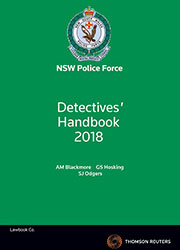 Detectives' Handbook 2018 - Book
Book

Date: 21/11/2017

Code: 9780455500737

Lawbook Co., AUSTRALIA

Detectives' Handbook 2018 - Book
Description
The Detectives' Handbook 2018 is produced on behalf of the detectives of New South Wales. As with previous editions, the content has been carefully selected by NSW detectives for NSW detectives, to be of maximum benefit and relevance.
This 2018 edition features up-to-date legislation and commentary extracted from both Criminal Law (NSW), by AM Blackmore and GS Hosking, and Uniform Evidence Law by Stephen Odgers SC.
The legislation most relevant to the work of detectives is available in two volumes or eBook format, and represents exceptional value. For ease of reference, the back cover lists the legislation in each volume.
Legislation content is shaded to provide quick reference and additional pages are included to enable the taking of extensive notes. A handy index is located at the end of Volume 2, to help you navigate your way through the work.
LEGISLATION CONTENT
Volume 1
Bail Act
Coroners Act 2009 [Extracts]
Crimes Act 1900
Crimes (Domestic and Personal Violence) Act 2007
Crimes (Criminal Organisations Control) Act 2012
Drug Misuse and Trafficking Act 1985
Drug Misuse and Trafficking Regulation 2011
Law Enforcement (Controlled Operations) Act 1997
Law Enforcement (Powers and Responsibilities) Act 2002
Law Enforcement (Powers and Responsibilities) Regulation 2016
Surveillance Devices Act 2007
Volume 2
Firearms Act 1996
Firearms Regulation 2017 [Extracts]
Summary Offences Act 1988 [Extracts]
Summary Offences Regulation 2015
Weapons Prohibition Act 1998 [Extracts]
Weapons Prohibition Regulation 2017
Crimes (Forensic Procedures) Act 2000
Crimes (Forensic Procedures) Regulation 2014
Crimes Regulation 2015
Criminal Procedure Act 1986
Criminal Procedure Regulation 2017
Crimes (Sentencing Procedure) Act 1999
Crimes (Sentencing Procedure) Regulation 2017
Confiscation of Proceeds of Crime Act 1989
Evidence Act 1995 [Extracts]
Resource Downloads
General Downloads