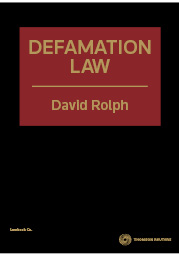 Defamation Law 1st Edition
Book+eBook

Date: 18/11/2015

Code: 41676019

Thomson Reuters, AUSTRALIA

Defamation Law 1st Edition
Description
Defamation Law by David Rolph provides a comprehensive, up-to-date account of Australian defamation law. This work provides both a practical resource and an explanation of the historical background and current sources of Australian defamation law.
David Rolph analyses the competing interests underlying defamation – the protection of reputation and freedom of expression – and considers in detail the requirements of the plaintiff's case for defamation, the range of available defences and the remedies which may be awarded.
As well as focussing on the tort of defamation, this work considers criminal defamation and civil causes of action which may overlap with it.
Critically for both practitioners and students, this work considers a range of practical questions such as how to deal with directions for juries, costs, damages, interlocutories particular to defamation, capacity arguments, particulars and interrogatories.
In this work, David Rolph has struck the necessary balance between providing essential practical guidance and the historical context of the law, to provide both defamation lawyers and students of defamation law with the ideal text on the subject.
Table of Contents
CONTENTS:
Acknowledgements
Foreword by the Honourable Justice Susan Kiefel AC
Chapter 1 Introduction
Chapter 2 Competing Interests in Defamation Law
Chapter 3 History and Sources of Defamation Law
Chapter 4 Criminal Defamation
Chapter 5 Preliminary Matters
Chapter 6 Defamatory Capacity and Meaning
Chapter 7 Identification
Chapter 8 Publication
Chapter 9 Justification
Chapter 10 Absolute Privilege
Chapter 11 Qualified Privilege
Chapter 12 Protected Reports
Chapter 13 Fair Comment and Honest Opinion
Chapter 14 Miscellaneous Defences
Chapter 15 Damages
Chapter 16 Injunctions
Chapter 17 Offers of Amends and Other Remedies
Chapter 18 Causes of Action Other than Defamation
*
eBooks and packages including an eBook may not be returned once the software key has been supplied. Your rights as a customer to access and use the ProView™ software and a ProView eBook are subject to acceptance of the ProView content licence agreement.
NB
An email with a registration key and instructions for accessing your eBook will be sent after checkout. For existing ProView users the eBook will appear in your library after checkout.

Forthcoming/pre-order eBooks will be available after the publication date.

The ProView app is not currently available on Kindle. See the latest system requirements