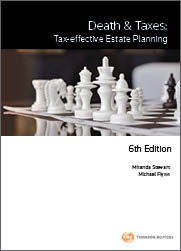 Death & Taxes: Tax-Effective Estate Planning 6e
Book

$79.20* $198.00 RRP Save: $118.80 (60%)

Date: 28/10/2014

Code: 9780864609120

Thomson Reuters, AUSTRALIA

Death & Taxes: Tax-Effective Estate Planning 6e

Sale Price:

$79.20

Saving: $118.80
Description
Death & Taxes: Tax Effective Estate Planning 6th Edition will help you to plan and prepare better outcomes for your clients through an enhanced understanding of the impact of tax laws on all assets controlled by an individual at death. This consolidated guide to managing the affairs of the deceased will give you the confidence to advise on estate planning and the tax consequences of death.
The book addresses the impact of tax on superannuation, the home, investments, insurance, businesses and assets controlled in family trusts and companies including cross-border tax issues. Through the extensive use of case studies and references to the Australian Tax Office rulings and decisions, the authors show how tax concessions on death can be utilised and tax pitfalls avoided.
Death & Taxes: Tax Effective Estate Planning 6th Edition is an indispensible reference for all who research or advise on estate planning, wills and management of deceased estates and testamentary trusts including:
Executors and trustees;
Solicitors and barristers;
Accountants and tax agents;
Financial planners; and
Legal scholars.
Features
Examines the impact of taxation upon death with coverage of income tax, CGT, GST, various State and Territory duties & land tax
Provides guidance on tax law applicable to the deceased, the estate, testamentary trusts & beneficiaries
Guidance on tax planning strategies to take full advantage of tax law provisions, tax exemptions and tax concessions
Extensive use of examples to demonstrate how the law is put into practice


Table of Contents
Part 1: Introduction, Overview and Estate Planning · Introduction and overview · Tax-effective estate planning
Part 2: Finalising the tax affairs of a deceased individual · Compliance obligations and payment of tax · Final year receipts of the deceased · Final year expenses and losses of the deceased · Assets owned by the deceased at death · Final year tax offsets of the deceased
Part 3: Taxation of deceased estates and testamentary trusts · Taxation of a deceased estate or testamentary trust · Receipts of a deceased estate or testamentary trust · Expenses and losses of a deceased estate or testamentary trust · Distribution or disposal of assets by a deceased estate or testamentary trust
Part 4: Taxation issues for beneficiaries of deceased estates· Taxation of beneficiaries on receipts and assets directly received · Taxation of beneficiaries on receipts from a deceased estate or testamentary trust · Expenses of beneficiaries · Taxation of beneficiaries on assets distributed from a deceased estate or testamentary trust · Beneficiary dealings in interests in a deceased estate or testamentary trust
Part 5: Philanthropy and tax-effective charitable giving · Philanthropy and tax-effective estate planning
Appendices - Table of Statutes · Table of Cases · Rulings and determinations table · Useful contacts · Tax rates · Index