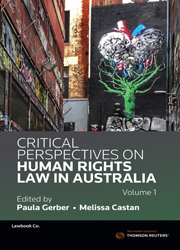 Critical Perspectives on Human Rights Law Volume One - Book & eBook
Book+eBook

Date: 08/03/2021

Code: 42699134

Lawbook Co., AUSTRALIA

Critical Perspectives on Human Rights Law Volume One - Book & eBook
Description
Critical Perspectives on Human Rights Law in Australia provides a comprehensive, accessible and scholarly examination of many of the key human rights issues facing Australia today. Written for human rights and legal scholars, legal practitioners and those readers who wish to increase their understanding of the field, this book provides a timely and intriguing discussion on the law and policy regarding the application of human rights standards in Australia today.
The contributors are many of the nation's leading and emerging experts in human rights, drawn from both legal and non-legal disciplines, and from varied backgrounds including universities, NGOs and the Australian Human Rights Commission. The authors outline and explore a collection of thought-provoking and controversial topics, presenting clear, articulate and engaging chapters that skilfully highlight both introductory ideas and in-depth critical analysis.
Editorial Review
'This book provides a remarkable portrait of the state of human rights in Australia; not always favourable... .'
- The Hon Michael Kirby AC CMG
'This book is just what we need, an insightful analysis of the current state of human rights law in Australia, along with guidance about how we can improve the protection and promotion of human rights in this country.'
- Gillian Triggs, UN Assistant Secretary-General and Assistant High Commissioner Protection UNHCR
'This collection offers a fascinating array of analyses of Australia's engagement with the international human rights system. It shows the complexity of the Australian political and legal context which has long been wary of the language of human rights. This book is incisive and critical, yet ultimately optimistic about the future of human rights in Australia.
- Professor Hilary Charlesworth
*
eBooks and packages including an eBook may not be returned once the software key has been supplied. Your rights as a customer to access and use the ProView™ software and a ProView eBook are subject to acceptance of the ProView content licence agreement.
NB
•
An email with a registration key and instructions for accessing your eBook will be sent after checkout. For existing ProView users the eBook will appear in your library after checkout.
•
Forthcoming/pre-order eBooks will be available after the publication date.
•
The ProView app is not currently available on Kindle. See the latest system requirements