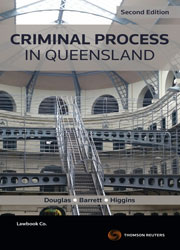 Criminal Process in Queensland 2e ebk
eBook - ProView

Date: 07/07/2017

Code: 9780455239668

Lawbook Co., AUSTRALIA

Criminal Process in Queensland 2e ebk
Description
Criminal Process in Queensland has been completely revised.

This well-researched and clearly written book covers the spectrum of criminal process in Queensland, including areas often neglected by other texts, beginning with an overview of recent reforms and the onus of proof the book covers police investigation procedures, police accountability and charge and bail, through to pre-trial processes, trial, sentencing and appeal. The book also includes a discussion of the role of and response to victims in the criminal justice process.

New material in this edition includes:
Consideration of the continued trend in statutory exceptions to the rule that the Crown must prove all elements of an offence;
extended focus on policing by consent;
discussion of the recent decisions on police access to suspects electronic devices;
changes in approach to offences involving domestic and family violence;
discussion of new approaches to organised crime, including control orders;
expanded consideration of the application of the proviso in appeals matters;
discussion of Queensland's Murri Courts.
With its clear and well-structured analysis and easily accessible socio-legal approach, Criminal Process in Queensland will be of great assistance to students, practitioners and those working in related government and non-government organisations.
Table of Contents
Introduction
Chapter 1 Proving Offences
Chapter 2 Policing
Chapter 3 Police Accountability
Chapter 4 Bail
Chapter 5 Charges and Commencing Proceedings
Chapter 6 Committals and Indictments
Chapter 7 Pleas and Double Jeopardy
Chapter 8 Trial Process
Chapter 9 Fair Trial and Abuse of Process
Chapter 10 Legal Representation
Chapter 11 Underlying Sentencing
Chapter 12 Penalties
Chapter 13 Appeals
Chapter 14 Pardons
Chapter 15 Restoring Justice
*
eBooks and packages including an eBook may not be returned once the software key has been supplied. Your rights as a customer to access and use the ProView™ software and a ProView eBook are subject to acceptance of the ProView content licence agreement.
NB
An email with a registration key and instructions for accessing your eBook will be sent after checkout. For existing ProView users the eBook will appear in your library after checkout.

Forthcoming/pre-order eBooks will be available after the publication date.

The ProView app is not currently available on Kindle. See the latest system requirements