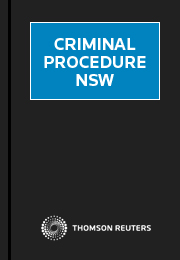 Criminal Procedure NSW
Online

Date: 22/07/2003

Code: 41167485

Lawbook Co., AUSTRALIA

Enquiry Sent

A member of our support team will be in touch with you within 1 business day.

Sales Enquiry Form

Criminal Procedure NSW

For questions about how to use this product or to get help with your account please visit the Help Centre or Contact Support directly.
Description
This service provides in-depth practical and procedural knowledge on how to approach your criminal case in New South Wales, from the moment of arrest to appealing a sentence decision (including remedies if no conviction results). All the criminal procedure aspects of the relevant Acts, Regulations, Rules and procedural guides can be accessed in this one resource. With an extensive review of tactics, strategy and procedure, you will find this to be an indispensable reference to assist you in your practice.