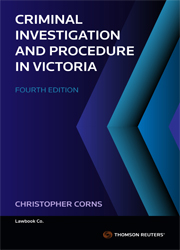 Criminal Investigation and Procedure in Victoria 3e
Book

Date: 25/10/2018

Code: 9780455239781

Lawbook Co., AUSTRALIA

Criminal Investigation and Procedure in Victoria 3e
Description
This third edition covers all significant developments in the law relating to criminal investigation and criminal procedure in Victoria over the last 4 years. This new edition covers:
· Extensive reform to bail laws (2017) including new Schedule offences for "exceptional circumstances" and "compelling reason", sharper focus on protecting victims of family violence, and updated case law;
· Reforms to the Juries Act 2015 including new directions regarding identification, post-offence conduct, inferences from silence, and the introduction of "ground rule hearings";
· Extensive reform to sentencing law including abolition of baseline sentencing-replaced with the "Sentencing Standards" regime (2017), expansion of offences with minimum sentences and minimum non-parole terms, reform to use of Community Corrections Order. Discussion of High Court clarification of use of "current sentencing practices," Victoria's first Guideline Judgement (Boulton v The Queen [2014] VSCA 342, and extension of "Verdins" principles;
· Updated appellate decisions regarding abuse of process, police questioning, police search powers, the Evidence Act 2008 (ss 85, 137), jury irregularities, views, and no-case submission;
· Introduction of concurrent expert evidence in criminal trials;
· Reforms to appeal procedures in the Court of Appeal and in the High Court;
· Reforms to the parole system (2017) including the Post Sentence Authority to take over functions of the Adult Parole Board Detention and Supervision Order Division;
· New DPP Prosecution Policy (2017);
· New police "Move-on" powers (2017).
This third edition of Criminal Investigation and Procedure in Victoria builds upon the strengths of the first two editions and provides an up-to-date, concise, and comprehensive account of all key laws relating to criminal investigation and procedure in Victoria.
Table of Contents
Introduction
1. Investigators, Rights, Crimes and Courts
2. Arrest and Charge
3. Bail
4. Searches and Seizure of Evidence
5. Questioning
6. Identification, Fingerprints and Forensic Procedures
7. Covert Investigations
8. Admissibility of Evidence Obtained During Investigations
9. Prosecution and Commttal Proceedings
10. The Trial Process
11. Sentencing
12. Appeals
13. Prisons, Parole, Community, Corrections and Victim Compensation