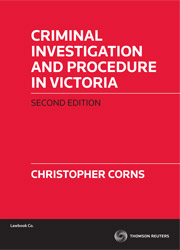 Criminal Investigation and Procedure in Victoria 2nd edition
Book

Date: 12/09/2014

Code: 9780455229041

Lawbook Co., AUSTRALIA

Criminal Investigation and Procedure in Victoria 2nd edition
Description
This second edition covers all significant developments in the law relating to criminal investigation and criminal procedure in Victoria over the last 5 years. This new edition covers:
new stand-alone Acts such as the Jury Directions Act 2013 (Vic), the Victoria Police Act 2013 (Vic), the Coroners Act 2008 (Vic), the Open Courts Act 2013 (Vic), and the Independent Broad-based Anti-corruption Commission Act 2011 (Vic);
significant reforms to a range of existing legislation including the new Community Corrections Order (replacing a number of community based sentences), expansion of offences for which a forensic sample can be taken, expansion of search powers, "move on" powers, minimum non-parole periods for specified offences, amendments to the Bail Act 1977 (Vic), baseline sentencing, and parole for State offenders;
new topics added including retrospectivity, sentencing of federal offenders, parole for federal offenders, joint State-federal prosecutions, the Office of Chief Examiner, witness anonymity at trial, protection of witnesses, unfitness to plead, expansion of interlocutory appeals, retrial of persons acquitted, and costs;
new Chapter 13 covering prisons, parole, community corrections, post-sentence detention, sex offenders register and compensation for crime victims;
reference to key appellate decisions relevant to all topics covered including interlocutory appeals, police questioning, police search powers, the role of the prosecutor at sentencing, prosecutorial discretion, scope of covert investigation powers, and the relationship between the Evidence Act 2008 (Vic) and the common law regarding judicial power to exclude evidence.
This second edition builds upon the strengths of the first edition and provides an up-to-date, concise, and comprehensive account of all key laws relating to criminal investigation and procedure in Victoria.
Table of Contents
Introduction
Investigators, Rights, Crimes and Courts
Arrest and Charge
Bail
Searches and Seizure of Evidence
Questioning
Identification, Fingerprints and Forensic Procedures
Covert Investigations
Admissibility of Evidence Obtained During Investigations
Prosecution and Committal Proceedings
The Trial Process
Sentencing
Appeals
Prisons, Parole, Community Corrections and Victim Compensation