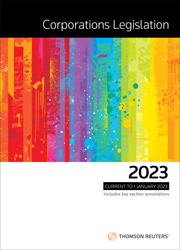 Corporations Legislation 2023 - Book
Book

$50.00* $125.00 RRP Save: $75.00 (60%)

Date: 22/02/2023

Code: 9780455502786

Lawbook Co., AUSTRALIA

Corporations Legislation 2023 - Book

Sale Price:

$50.00

Saving: $75.00
Description
Thomson Reuters' Corporations Legislation 2023 has an outstanding reputation for accuracy, dependability and reliability. This fully consolidated legislation book includes the Corporations Act 2001, Corporations Regulations 2001 (except Sch 2 Forms) and Insolvency Practice Rules (Corporations) 2016 and captures the latest amendments up until 1 January 2023. Cross-references to related legislation (including Court Rules), ASIC Class Orders, ASIC Regulatory Guides, ASIC Forms and the Takeovers Panel Guidance Notes have been included to assist the reader in working with the legislation. The book is designed for use by legal practitioners, legal professionals and students.
The Corporations Act 2001 (Cth) is supplemented by key section annotations updated by Professor Jason Harris of Sydney University, Karen Petch, Barrister-at-law, Kerry Abadee, former ASIC Senior Manager and Alexandra Pieniazek, Barrister-at-law.
New for this year is the inclusion of previously unannotated sections. These section-specific commentary notes provide additional guidance for the most important provisions.
In addition, in the "Year in Review" feature, Jason Harris highlights significant corporations law developments since January 2022.
Key Developments:
New authors have annotated additional key sections including ss 588FDA, 674, 674A, 766B, 912A and 981H of the Corporations Act 2001 (Cth) and ss 60- 12 and 90-15 of Schedule 2.
More discussion of Orders available relating to voidable transactions in Morton v Metal Manufactures Pty Ltd [2021] FCAFC 228.
Detailed consideration of the discretionary powers of courts to order examinations of persons as distinct from abuses of process in Walton v ACN 004 410 833 Ltd (in liq) [2022] HCA 3.
Principles for the valuation of shares in the context of remedies for oppression discussed in Porter Street Investments Pty Ltd v Nellbar Pty Ltd [2022] WASCA 33.
Amendments passed during 2022 including the Corporate Collective Investment Vehicle Framework and Other Measures Act 2022 (Cth) which introduced Chapter 8B to the Corporations Act and created a new form of investment vehicle, and the Corporations Amendment (Meetings and Documents) Act 2022 (Cth) which enabled virtual and hybrid meetings and the electronic transmission of documents for meetings.
Separately available as an eBook on Thomson Reuters ProView®, here, is Corporations – Court Rules and Related Legislation 2023. This is a complementary work to Corporations Legislation 2023, bringing together in one volume the various court rules governing proceedings under the Corporations Act 2001 and the Australian Securities and Investments Act 2001 in superior courts around Australia and other related legislation.