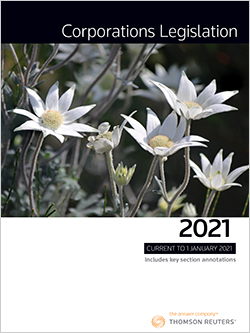 Corporations Legislation 2021
Book

Date: 19/02/2021

Code: 9780455501932

Thomson Reuters, AUSTRALIA

Corporations Legislation 2021
Description
Corporations Legislation 2021 contains the Corporations Act 2001, Australian Securities and Investments Commission Act 2001 and associated Acts and Regulations. The legislation has been fully consolidated, capturing the latest amendments up to 1 January 2021. Cross-references to related legislation (including Court Rules), ASIC Class Orders, ASIC Regulatory Guides, ASIC Forms and the Takeovers Panel Guidance Notes have been included to assist the reader in working with the legislation.
Designed for use by corporations practitioners, business professionals and anyone with an interest in corporations law, Corporations Legislation 2021 supplements the Corporations Act 2001 with key section annotations updated by Edmund Finnane, providing additional guidance on case law for selected provisions. In addition, Jason Harris in the Annual Review highlights important Corporations law developments that occurred throughout 2020, providing insightful commentary on significant cases and legislative amendment
Key Developments
Corporations Amendment (Corporate Insolvency Reforms) Act 2020 which introduces Part 5.3B that provides for a new restructuring procedure for companies with less than total liabilities of $1 million.
Financial Sector Reform (Hayne Royal Commission Response) Act 2020 and related legislation providing for the implementation of recommendations from the Royal Commission.
Significant directors' duties cases such as ASIC v King [2020] HCA 4 (covering the definition of 'officer') and Cassimatis v ASIC [2020] FCAFC 52 (giving detailed analysis of the duty of care).
Important decisions on the scope of the duties of board chairs in United Petroleum Australia Pty Ltd v Hudson [2020] VSCA 14 (duties of chairman) and ASIC v Mitchell (No 2) [2020] FCA 1098.
Detailed consideration of voidable transactions in insolvency: Cant v Mad Brothers Earthmoving Pty Ltd [2020] VSCA 198.
Treasury Laws Amendment (Combating Illegal Phoenixing) Act 2020, which introduces new civil and criminal penalties for creditor defeating dispositions.
Coronavirus Economic Response Package Omnibus Act 2020, which introduced a raft of changes to the Corporations Act 2001 (Cth) to assist companies during the COVID-19 pandemic, including adjusting insolvent trading laws and continuous disclosure laws and allowing the Treasurer to make instruments to vary the operation of the Act (such as to facilitate online meetings and electronic signatures).