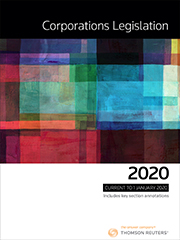 Corporations Legislation 2020
Book

Date: 21/04/2020

Code: 9780455501581

Thomson Reuters, AUSTRALIA

Corporations Legislation 2020
Description
Corporations Legislation 2020 contains the Corporations Act 2001, Australian Securities and Investments Commission Act 2001 and associated Acts and Regulations. The legislation has been fully consolidated, capturing the latest amendments up to 1 January 2020. Cross-references to related legislation (including Court Rules), ASIC Class Orders, ASIC Regulatory Guides, ASIC Forms and the Takeovers Panel Guidance Notes have been included to assist the reader in working with the legislation.
Designed for use by corporations practitioners, business professionals and anyone with an interest in corporations law, Corporations Legislation 2020 supplements the Corporations Act 2001 with key section annotations updated by Edmund Finnane, providing additional guidance on case law for selected provisions. In addition, in the Annual Review, Jason Harris highlights important Corporations law developments that occurred throughout 2019, providing insightful commentary on significant cases and legislative amendment
The Key Highlights for Corporations Legislation 2020 are:
The treatment of trust property when a corporate trustee enters receivership was considered in Carter Holt Harvey Woodproducts Australia Pty Ltd v Commonwealth [2019] HCA 20
Connective Services Pty Ltd v Slea Pty Ltd [2019] HCA 33 considered the scope of the financial assistance provision in s 260A.
Operation of continuous disclosure laws as well as directors' duties considered in ASIC v Vocation Ltd (in liq) [2019] FCA 807.
Treasury Laws Amendment (Strengthening Corporate and Financial Sector Penalties) Act 2019 (Cth). This Act reshapes the operation of civil and criminal penalties under the Corporations Act, including increasing maximum penalties, changing the way criminal penalties are calculated, introducing a new relinquishment order and extending civil penalty provisions.
Treasury Laws Amendment (Design and Distribution Obligations and Product Intervention Powers) Act 2019 (Cth). This Act introduces a new product intervention power for ASIC and imposes new obligations on the design and distribution of certain financial products.